Humble Boy (2011)
From sltarchive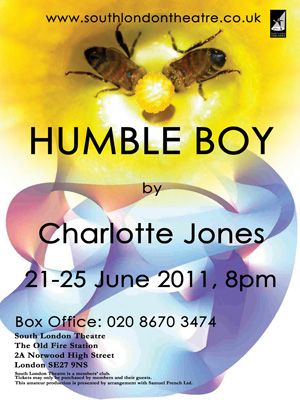 Directed by Jess Osorio
Performances: Tue 21st – Sat 25th June 2011, Prompt Corner
Introduction
Humble Boy is a comedy about broken vows, failed hopes and the joys of beekeeping , and is inspired by Shakespeare's Hamlet. Felix Humble, a bumbling Cambridge astrophysicist in search of a unified field theory, returns to the family home following the sudden death of his father. His mother Flora is determined to make a fresh start with George, a brash family friend and father of his ex-girlfriend Rosie, with whom Felix is reunited during the play. The reunion of Flora and Felix however, is not as plesant as one might expect, and old animosities arise, as he sees through his mother's agenda and finds that the gardener, Jim, who is ignored by everyone else, is the only person he can confide in. Throughout the play secrets are revealed as Felix tries to come to terms with the past and what is yet to come.
Cast
Crew
With thanks to:
I would like to thank everyone who has made this possible: the cast for all their support, Chris Briggs for his help, advice and patience, Emmaus for rehearsal space and cups of tea, Alan Buckman, Anton Krause, Anna York, Lisa Thomas & Charlotte Vaight. The Front of House, Box Office and Bar staff for helping it all run smoothly, and also the cast and director of Present Laughter. Last but not least, Mike Elliott for finding a beehive for us from the Bromley Beehive Association, and to Melanie Krudy. Jess Osorio, Director
Reviews
Some review quotes go here
Gallery
Reminiscences and Anecdotes
Members are encouraged to write about their experiences of working on or seeing this production. Please leave your name. Anonymous entries may be deleted.
See Also
Have there been other SLT productions of this play? Link to them here.
Or add anything that is related within this site. The author's page for instance or other plays with a similar theme.
References
<references/>
External Links
Edit Categories below - Bell or Prompt AND THEN REMOVE THIS MESSAGE!