Hamp (2003)
From sltarchive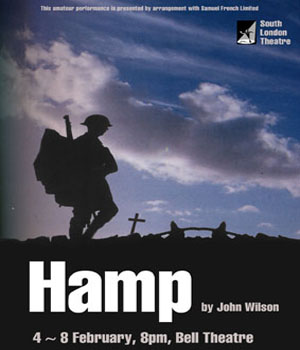 by John Wilson
Directed & Designed by Liam Campbell, Assistant Director - Kat Boyce
Performances: Tue 4th – Sat 8th February 2003, Bell Theatre
Introduction
Private Arthur Hamp 873426 is a nobody. He's nothing special as a soldier, he just is. So when Private Hamp decides he's had enough, he can't take any more, why can't the Establishment accept this?
It's 1917, the battle of Passchendaele has been raging for months, one soldier has reached his breaking point. Is shellshock a crime, is it even recognised as an illness?
These thought-provoking questions are asked in John Wilson's powerful and insightful script.
Cast
Crew
P.A. to the director - Pat Laban
Stage Manager - Jess Osorio
Assistant Stage Managers - Maria Cottee & Paul Cottee
Lighting Design - Stuart Draper
Lighting Operator - Peter Medd
Sound Design - Christopher Vian-Smith
Sound Mixing - The Studio Caterham
Sound Operators - Christopher Vian-Smith & Bob Callender
Costumes - Philip Hinton, Liam Campbell, Pat Laban, Evelyn Laban & Alan Buckman
Set Design - Liam Campbell
Set Construction - Liam Campbell, Peter Loftus, Peter Fortune, Paul Fortune, Peter Medd, Jess Osorio, Richard Watkins, Bob Callender, Mike Smart, Simon Moody, Lisa Marsh, Bernie Bullbrook & Jai Campbell
Props - Alan Buckman, Liam Campbell, Kat Boyce & Simon Moody
Reviews
Some review quotes go here
Gallery
Reminiscences and Anecdotes
Members are encouraged to write about their experiences of working on or seeing this production. Please leave your name. Anonymous entries may be deleted.
See Also
Have there been other SLT productions of this play? Link to them here.
Or add anything that is related within this site. The author's page for instance or other plays with a similar theme.
References
External Links