Grimm Tales (2020)
From sltarchive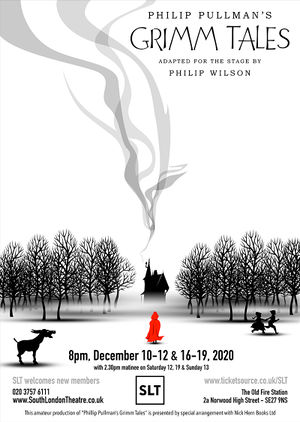 by Philip Pullman from The Brothers Grimm, adapted for the stage by Philip Wilson
Performances: Evening performances on Thursday 10 to Saturday 12; matinees on Saturday 12 and Sunday 13; community performance on Sunday 13; and live streamed on Tuesday 15 December 2020, Old Fire Station
Introduction
In 2012 Philip Pullman published a book of retellings of 50 of the folk tales collected and published in the early 19th Century by Jacob and Wilhelm Grimm. In 2014 Philip Wilson adapted five of the tales for a season at Shoreditch Town Hall and later the same year a further seven for a season at Bargehouse, Oxo Tower Wharf. Our selection includes two well known tales - Little Red Riding Hood and Hansel and Gretel - and another - The Donkey Cabbage - that is lesser known but, frankly, too bonkers not to include!
Casts
Litte Red Riding Hood
Hansel and Gretel
The Donkey Cabbage
Crew
Reviews
Some review quotes go here
Gallery
Reminiscences and Anecdotes
Auditions and most of the rehearsals for this show took place virtually, during the second national lockdown in November 2020. The cast and crew only met in person for the first time 8 days before the first performance. On Monday 14 December the government announced that London would be moving from Tier 2 to Tier 3 under the coronavirus regulations on Wednesday 16 December, which meant that no more of the planned performances could take place. The planned live streamed performance was brought forward from Thursday 17 to Tuesday 15 December, just before the cutoff for live performance.
See Also
Grimm Tales(2008), a different selection of tales, adapted for the stage by Melly Still and Tim Supple from the book by Carol Ann Duffy
References
External Links