Ghosts (2009)
From sltarchive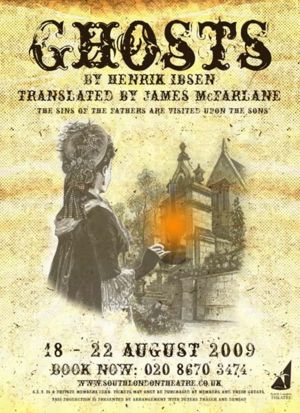 by Henrik Ibsen
Directed by Catherine Ellis
Performances: Tue 18th – Sat 22nd August 2009, Prompt Corner
Introduction
Helene Alving is about to dedicate an orphanage she has built in the memory of her dead husband, Captain Alving. She reveals to her spiritual advisor, Pastor Manders, that she has hidden the evils of her marriage, and has built the orphanage to deplete her husband's wealth so that their son, Osvald, might not inherit anything from him. Pastor Manders had previously advised her to return to her husband despite his philandering, and she followed his advice in the belief that her love for her husband would eventually reform him. However her husband's philandering continued until his death, and Mrs. Alving was unable to leave him prior for fear of being shunned by the community. During the action of the play she discovers that her son Osvald (whom she had sent away so that he would not be corrupted by his father) is suffering from congenital syphilis, and (worse) has fallen in love with Regina Engstrand, Mrs. Alving's maid, who is revealed to be an illegitimate daughter of Captain Alving, and thereby Osvald's own half-sister. The play concludes with Mrs. Alving deciding whether or not to euthanize her son Osvald in his developing syphillitic madness in accordance with his wishes. <ref>Ghosts at Wikipedia</ref>
Cast
Crew
Reviews
From the discussion board:
"Prompt Corner was three quarters full on Tuesday night to see Ghosts - and the production thoroughly deserves this level of support and more.
At times thought-provoking, moving, and shocking, it's a powerful piece strongly played by all.
Of course this is a piece from the 1880s and therefore reflects different times and attitudes. But the interest here is not in observing a historical snapshot. Ghosts is chock-full of themes of eternal relevance, and it resonates today through to the end.
The team rattle along at good pace, and judging by the reactions on the faces in the bar at 10:15 this evening, are thoroughly hitting the mark.
Go see. " Jason
" I have never seen this play and really didn't know what to expect and I thoroughly enjoyed myself. Michael and Stevie certainly brought an element of humour to the otherwise heart ringing sentiment. Catherine's excellent direction and the wonderful acting by all the cast had me spellbound from the very beginning. Well done all" Hazel
"Great production of a timeless play.
All of the performances are very strong and very well cast. The pace rockets along and keeps the audience completely engaged throughout.
The set and staging is very well thought-out and gives a real sense of intimacy to these peoples lives.
Costumes are again brilliantly realised.
The lighting captures the mood perfectly and the sound is subtle enough to compliment the action without intruding.
For a first night, it was tight and assured so can only imagine by Friday it'll be fantastic.
The only major thing I thought might have been more prominent was the lighting effect on the Orphange scene as the lights die down for the end of Act 2 - But then sometimes magical things just aren't possible.
I won't say anymore as it'll give the game away.
Well done everyone and thanks for a great evening." Markwriter13
"Still think Ibsen is all a bit Norwegian-emo , but this was an excellent production.
Brilliant performances from all concerned and very pacey direction made for an atmospheric evening with some spinechillingly tense moments. The weighty dialogue was very impressively handled and never seemed laboured or longwinded. Well done to all concerned" Naomi
Gallery
http://www.photos.sltarchive.co.uk/thumbnails.php?album=65
Reminiscences and Anecdotes
Members are encouraged to write about their experiences of working on or seeing this production. Please leave your name. Anonymous entries may be deleted.
See Also
References
<references/>
External Links