Daisy Pulls it Off (2009)
From sltarchive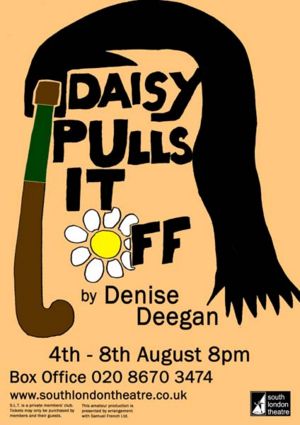 Directed by Juliet Holden
Performances: Tuesday 4th to Saturday 8th August 2009, Bell Theatre
Introduction
Daisy pulls it off is a parody of life in an English boarding school. The heroine, a girl from a poor background, is forced to face and overcome snobbish prejudice from the other schoolgirls. Along the way she searches for the missing treasure that could save the fortunes of the School and discovers the secret of the mysterious stranger seen around the grounds.
Like St Trinians, the schoolgirls are played by older actresses.
Cast
Crew
Reviews
From the discussion board:
"Can I just start by saying Top Hole! If you have a chance to grab one of the last remaining tickets definitely go see this (and turn up as a reserve on the full nights if you haven't!).
Fantastic performances, direction, casting and set. This show is FUN. Had me giggling throughout at both the obvious jokes and the continuous sexual innuendo (I had the fortune to be sitting behind Peter Stevens, who appears to have as filthy a mind as I do...).
It's wonderful to see what is obviously such a team performance, by a cast really enjoying themselves. Particular favourites were Ruth Huggett, as Trixie, the awesome duos - Samantha Golton/Penny Allen "Head Girls" and Lucy Bailey/Anthea Martin "Weasel Snobs" and, obviously, Karen Webb pulling another stunner with Daisy. Helen Winston (debut, I think?)also showed her range with her two, very different, characters. Also, big hand to Charles Doyle for the simple (but effective) set design and the off-stage Hindle/Wilson duo for, yet again, coming up trumps with the artwork.
This might not be everyone's cup of tea, but, if you're going to do this production, THIS production is how you should do it. Congrats to Juliet and her more than able team.
I loved it." - Calamity

"Absolutely spiffing. Loads of jolly japes. Midnight feasts in the dorm. Secret societies, treasure hunts. Wonderful stuff, beautifully done. Thanks all." - Carole

"I think it is the best thing I have seen in Bell for a long time. I thought it was great the set was great and Karen "of a thousand voices" was brilliant. I also took a real dislike to the villain, which shows she was doing a great job, I thought the audience were going to boo her pantomime style on more than one occasion!" - Neil Carmichael

"We had an absolutely ripping time last night. Oh Jubilate!! A very strong cast of jolly good sorts and ghastly beasts. All deserve a good pat on the back. My old school song was Honesta Obtinate. I had to resist a strong urge to stand up and bawl it out when the gels sang theirs. Instead I sang it to Graham as we walked up Auckland Hill." - Jenny C

"Stunning cast, Karen, Roo and Sam making great leads, wonderful fun." - Peetree

"Loved it loved it loved it" - Fents

"You were all wonderful, gels - even the rotters turned out to be thoroughly good eggs in the end! Raffaella and I had a great time (though I feel I should apologise for my loud gasp at one particularly tense point, so strongly was I empathising with the events on the stage)." - Kippa

"Congrats to all, that was great fun, I thought all of the cast were terrific, the accents impeccable, and the set was the best I've seen at SLT. Also, kudos to the music teacher, Helen - that Mozart sonata is not easy! " - Davey
Gallery
Phil Gammon's photographs of the show can be found here http://www.photos.sltarchive.co.uk/thumbnails.php?album=64
Reminiscences and Anecdotes
Members are encouraged to write about their experiences of working on or seeing this production. Please leave your name. Anonymous entries may be deleted.
See Also
References
<references/>
External Links