Burglary for Beginners (2008)
From sltarchive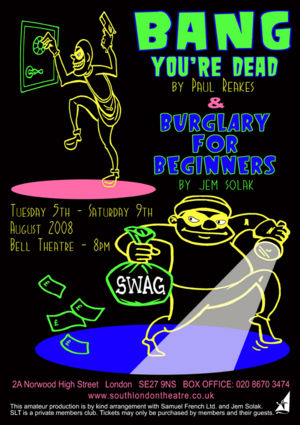 by Jem Solak
Directed by Paula Kelly & Jem Solak
Performances: Tuesday 5th to Saturday 9th August 2008, Bell Theatre

Performed with Bang, You're Dead! as a double bill.
Introduction
Jack is a professional, one of the best in the business. Now he's reluctantly taken on an apprentice, his nephew Oliver, who wants to learn the finer points of the family business. But on-the-job training is never simple when your business is burglary!
It should have been an uncomplicated job – breaking into the house of a wealthy art dealer to liberate some particularly valuable stamps: tidy, profitable, the perfect crime. But when things don't go quite according to plan, Jack finds himself tutoring an incompetent accomplice while arguing the finer points of art appreciation, entertaining some unexpected guests and learning more about cooking than he ever wanted to know.
And there's still the little matter of a safe to be cracked …
Cast
Crew
Reviews
Some review quotes go here

WdBJJv <a href="http://llppfliaxfaz.com/">llppfliaxfaz</a>, [url=http://elzunxxltdvf.com/]elzunxxltdvf[/url], [link=http://gnbsjiurjkdc.com/]gnbsjiurjkdc[/link], http://lejxmzfkpnqn.com/
Reminiscences and Anecdotes
Members are encouraged to write about their experiences of working on or seeing this production. Please leave your name. Anonymous entries may be deleted.
See Also
References
<references/>
External Links