A Midsummer Night's Dream (2010)
From sltarchive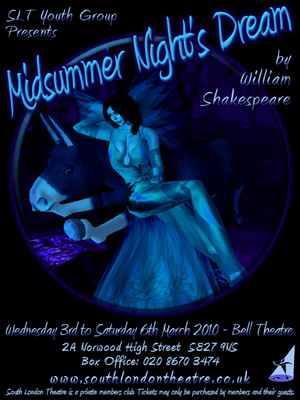 Directed by Stuart Draper & Maria Bates
Performances: Wednesday 3rd to Saturday 6th March 2010, Bell Theatre
Introduction
SLT's youth group take on the bard's most endearing comedy. Lysander is in love with Hermia but she is betrothed to Demetrius.. as far as her mother is concerned. When the lovers flee into the forest they unknowingly stumble upon a feud betewen the immortals.. and once Puck begins his meddling all hell breaks loose...
Cast
Mother - Juliet Holden
Oberon/Theseus - Joe Jones
Titania/Hippolyta - Marnie Jacobsen
Puck - Blake McKenzie/Jake Passmore
Egeus - Emma Benard
Philostrate/Fairy - Chloe Anthony Pillai
Lysander - Sam Johnstone
Hermia - Anne Bailey
Demetrius - Ciaran O'Brien
Helena - Lily Shepherd
Bottom - Nina Cavaliero Knox
Quince - Raffaella Patmore
Flute - Adam Ede
Snug - Lucie Blackstaffe
Snout - Catherine Pontin
Starveling - Daisy Everett
Fairy - Rahel Girma
Crew
The Directors and cast would like to offer a special thanks to the following people for their help and support with this production: Peter Stevens, Michelle Thomson, Sophie Talisby, the cast and crew of Durang, Durang and the wonderful volunteers who run the bar, box office and front of house.
Reviews
Some review quotes go here
Gallery
Reminiscences and Anecdotes
Members are encouraged to write about their experiences of working on or seeing this production. Please leave your name. Anonymous entries may be deleted.
See Also
References
<references/>
External Links