The Actor's Nightmare (2010)
From sltarchive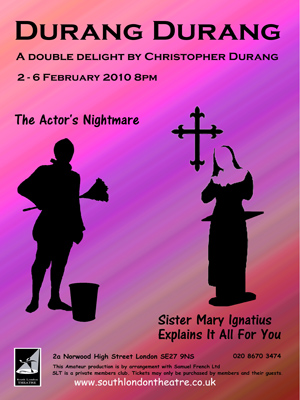 Directed by Carole Coyne
Performances: Tue 2nd – Sat 6th February 2010, Bell Theatre

Presented as part of a double bill with Durang's Sister Mary Ignatius Explains It All for You.
Introduction
George is sure he is an accountant not an actor so why do these people expect him to "go on" tonight? Why won't somebody at least tell him what play it is? Why didn't he join a monastery?
This is a hilarious evocation of many an actor's nightmare with lovely pastiches of some very well known plays - and being Christopher Durang there is a bit of lapsed-Catholic self-scourging as well.
Cast
Crew
Thanks
Many thanks to the casts and crews of Ladies Down Under (2010) and Blackbird (2010), Jess Osorio and the box office team, Matthew Lyne and the bar volunteers, Jeannette Hoile and the raffle and front of house team, Alan Buckman, Mark Bullock, Dave Hollander, James Hough, Kevin Leech, Hans Mudlamootoo, Alleyn's School.
Reviews
Some review quotes go here
Gallery
Reminiscences and Anecdotes
Members are encouraged to write about their experiences of working on or seeing this production. Please leave your name. Anonymous entries may be deleted.
See Also
References
<references/>
External Links