A Doll's House (2005)
From sltarchive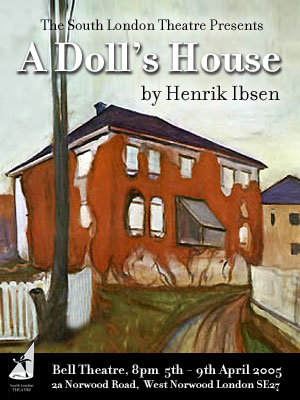 by Henrik Ibsen
Directed by Darien Graham-Smith
Performances: Tue 5th – Sat 9th April 2005, Bell Theatre
Introduction
A Doll's House is a classic drama which caused moral outrage when it was first performed in Copenhagen in 1879. It centres around Nora Helmer, seemingly a model wife, who finds a secret from her past catching up with her and threatening to tear apart her happy domestic life.
The play is a story of relationships, and this production will not just focus on Nora's character and situation, but will seek to bring to life all the characters, each with their individual personalities and beliefs, their own hopes and weaknesses. Nora's story is affecting and important precisely because it does not take place in a vacuum.
Cast
Crew
Reviews
Gallery
Reminiscences and Anecdotes
Stuey's set was incredible. And on the last night he served at the bar until something like 3am. Top bloke.
After the cast party, the director and choreographer went to Michelle Thomson's house and discovered how thin the ceiling was.
See Also
References
External Links