Vincent River (2010)
From sltarchive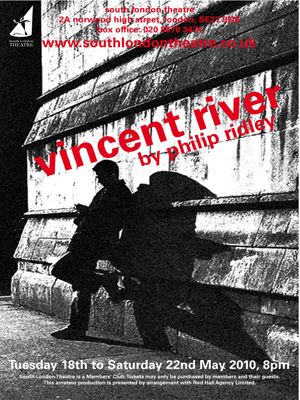 Directed by Jack King
Performances: Tue 18th – Sat 22nd May 2010, Prompt Corner
Introduction
You know how you tell you're getting older? Questions people ask. Family stuff mainly. When you're a kid it's, 'How's your Mum?' A bit older – about your age - it's 'You got a boyfriend yet?' Then 'You courting yet?' Then, 'How's your husband?' 'Got any children yet?' 'Got any grandchildren yet?' No one ever asks 'Is your son dead yet?'
Davey has a secret but what will be the consequences of sharing it? Anita is looking for answers but will finding them provide resolution? Their paths are about to cross with devastating results.
Vincent River is a darkly humorous and heartbreaking play about love, loss and the lies we tell ourselves just to get by.
Cast
Crew
Special thanks to Yeatman and Sons, Lisa Thomas and all on TC, GC, The Bar, box office, Carole Coyne, Alan Buckman, Chas Doyle, Mark Ireson and the cast and crews of The Comedy Of Errors, Carry On and Skellig.
Reviews
Some review quotes go here
Gallery
Reminiscences and Anecdotes
Members are encouraged to write about their experiences of working on or seeing this production. Please leave your name. Anonymous entries may be deleted.
See Also
Have there been other SLT productions of this play? Link to them here.
Or add anything that is related within this site. The author's page for instance or other plays with a similar theme.
References
<references/>
External Links