The World's Wife (2017)
From sltarchive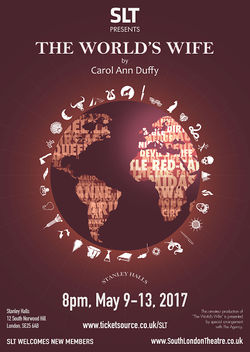 Assistant director - Matthew Davies
Performances: Tue 9th – Sat 13th May 2017, Upper Hall, Stanley Halls
Introduction
The play is set in ancient times and the modern day.
The poems are based on Greek and other myths etc. and are as follows:-
1. Mrs Beast, 2. Mrs Rip Van Winkle, 3. Little Redcap, 4. Frau Freud, 5. Anne Hathaway, 6. Demeter, 7. Queen Kong, 8. Mrs Tiresias, 9. Mrs Midas, 10 Mrs Faust, 11. Mrs Icarus, 12. Elvis's Twin Sister, 13. Pope Joan, 14. Kray Sisters, 15. Mrs Quasimodo, 16. Mrs Darwin.
Interval
17. Mrs Lazarus, 18. Pygmalion's Bride, 19. Mrs Aesop, 20. Circe, 21. Penelope, 22. Queen Herod, 23. Pilate's Wife, 24 Eurydice, 25. Thetis, 26. Medusa, 27 Delilah, 28. Salome, 29. Mrs Sisyphus, 30. The Devil's Wife.
Cast
Crew
Reviews
Some review quotes go here
Gallery
Photos by Phil Gammon - click here to view
Reminiscences and Anecdotes
Members are encouraged to write about their experiences of working on or seeing this production. Please leave your name. Anonymous entries may be deleted.
See Also
Have there been other SLT productions of this play? Link to them here.
Or add anything that is related within this site. The author's page for instance or other plays with a similar theme.
References
External Links
Edit Categories below - Bell or Prompt AND THEN REMOVE THIS MESSAGE!