The Positive Hour (2006)
From sltarchive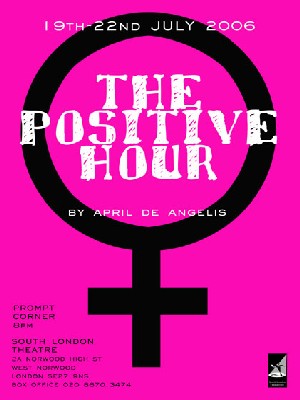 Directed by David Lomas
Performances: Wed 19th – Sat 22nd July 2006, Prompt Corner
Introduction
Some scripts leap out at you as soon as you pick them up and demand to be put on stage. Exactly as with Loveplay last year, I was immediately drawn to The Positive Hour by its directness, spiky issues and crackling wit. There are certainly themes in common with April de Angelis' slightly earlier Playhouse Creatures (recently seen in Prompt Corner, December 2005). We are again concerned with a close-knit group of women trying to survive, to find their own place in a pretty unwelcoming world and to form relationships with men.
However this play is far from being a period piece. It was first performed in 1997 and it is very much set in today's world, with all of the characters facing very contemporary dilemmas and traps. Two of the main characters - Miranda and Emma - were students in the 70s and they grew up in a world which was to some extent more idealistic and less determined by all-pervading capitalist forces and corporations than today. Where they now stand with regard to issues of morality, self-protection and self-expression are questions which are central to the play. The script keeps asking whether the driving enthusiasms of their youth - feminism, socialism, truthful artistic communication - continue to have any validity at all in today's world. But if this is starting to sound as if it might be a bit over serious and worthy, please don't be put off. This is very much a laugh-out-loud funny and earthy piece, just as Loveplay was a rude and comic exploration of some pretty dark and important issues last year.
Director's Notes <ref>Director's Notes: SLT Website</ref>
Cast
Crew
Reviews
Some review quotes go here
Gallery
Phil Gammon's photos of the production can be seen here
Reminiscences and Anecdotes
Members are encouraged to write about their experiences of working on or seeing this production. Please leave your name. Anonymous entries may be deleted.

Plot / Synopsis (copied from Google Books)

Miranda is a social worker, with no shortage of problems herself. Her best friend, Emma, is a failed artist in the throes of a mid-life crisis; her partner, Roger, is a frustrated academic, desperately trying to finish his book on Hegel. Personal problems are exacerbated by work and, especially, Miranda's relationship with Paula, an unemployed single mother who takes up prostitution to survive. Hilariously funny and deeply disturbing, The Positive Hour brings issues of gender and sexuality into a new, thoroughly modern context.
See Also
Have there been other SLT productions of this play? Link to them here.
Or add anything that is related within this site. The author's page for instance or other plays with a similar theme.
References
<references/>
External Links