The Dresser (1983)
From sltarchive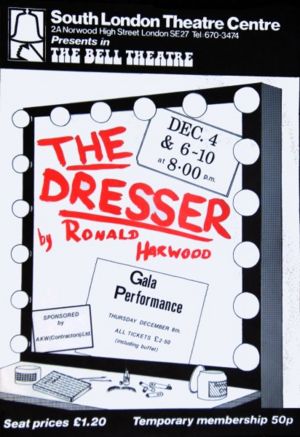 Directed by Brenda Meldrum
Performances: Sun 4th 7 Tues 6th – Sat 10th December 1983, Bell Theatre
Introduction
Programme Notes.
The play is set a provincial theatre in 1941. A touring company, led by an actor-manager knight of the Donald Wolfit school, is playing "King Lear" in the middle of the blitz. The action takes place before, during and after the performance.
The playwright, Ronald Harwood, was, for five years, Donald Wolfit's dresser. Although he states categorically the "Sir is not Donald Wolfit", he admits that his "memory of what took place night after night in Wolfit's dressing room" inspired the play. However, anyone who has read Harwood's biography of Wolfit cannot help but see striking resemblances between Wolfit and Sir and his company. As Kenneth Tynan said, Wolfit was vilified as a "ham" actor by some, because "he is a middle-aged actor-manager who goes on provincial tours with an unimpressive supporting cast". Harwood tells us of Wolfit's tyranny over his company, insisting on the brightest light, the most commanding positions and the dominance of the emotional scenes for himself. Yet Tynan, one of his sternest critics, admits that Wolfit's Lear was "majestic".
When the provincial theatres declined - first into flashy cinemas and finally, through a dreary metamorphosis, into sleazy bingo halls - the demand for touring companies, especially those bringing the Classical theatre, completely stopped. Only recently have we seen a renewal of the theatrical tour, but the present companies are funded by the big multi-nationals and the Arts Council and not, as in Wolfit's day, by the effort and dedication of the actor-manager and his company.
Brenda Meldrum
Cast
Crew
Reviews
"Decline and Fall of a Giant."
At the Bell Theatre this week, SLTC take us backstage in Ronald Harwood's acclaimed play "The Dresser" to the wings and Sir's dressing rooom for his flamboyant final appearance in "King Lear".
Harwood used to be Sir Donald Wolfitt's dresser. The Sir he has created, though slightly mythified, is plainly modelled on Wolfit himself: larger than life, tyrannical, self-seeking, exemplar of a vanishing breed, almost a throwback to Irving, who also surrounded himself with inferior players to bolster his own ego.
Since a good set provides a vital framework for a good production, it is right that I should pay tribute to the grimy, tatty provincial creation of Alan Buckman, constructed by Don North aand his four assistants.
Mr Buckman, as it happens, plays Sir's dresser himself, the self-effacing Norman, whose loyalty is so casually taken for granted.
It is a fine performance in a play that is almost a two-hander with supporting shadows. He is very neat and precise in his mannerisms - prissy is the word that springs to mind - and one can visualise him mincing into the corner shop and giving fussy orders for a packet of tea and a bar of soap.
Colm O'Neill grandly depicts the ruin of a great actor at the end of his career, about to embark on the 227th Lear and forgetting even his opening line. We see his Sir first as a crumpled wreck, ill and shaking. But the show must go on. He performs to great acclaim to collapse like a guttering candle.
It is an impressive display, technically assured and yet full of emotion.
Director Brenda Meldrum never forgets her shadows. Like the orchestra in a dazzling Chopin concerto, they minion away in support of the one who plays all the big tunes.
Janis Allen is Her Ladyship, Pussy to Sir's Bonzo, seeing through all his devices but imprisoned in his orbit. Anna Greenburg is the harassed Stage Manager, Marilyn Firth the sexy little ingenue. John Brierly is Oxenby, a discontented actor and aspiring playwright. Michael Meldrum is Thornton, a humble actor who knows his place and looks like an elderly short-sighted apiarist.
Bernard Witt completes the cast, labelled simply as Knight.
Donald Madgwick, The Croydon Advertiser, December 1983.
Gallery
Reminiscences and Anecdotes
Members are encouraged to write about their experiences of working on or seeing this production. Please leave your name. Anonymous entries may be deleted.
Sponored by
See Also
Have there been other SLT productions of this play? Link to them here.
Or add anything that is related within this site. The author's page for instance or other plays with a similar theme.
References
<references/>
External Links