The Country Wife (2003)
From sltarchive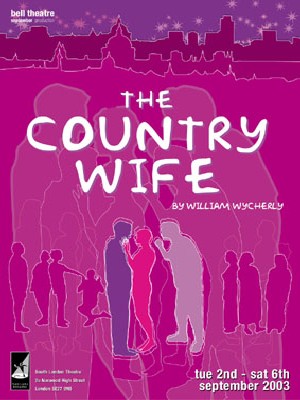 Directed by Jack King
Performances: Tue 2nd – Sat 6th September 2003, Bell Theatre
Introduction
The aptly named Mr Horner puts out the rumour that following a dose of the "French Disease" he is now impotent. Instantly every husband in town considers him the perfect companion for their wives leaving Horner free to seduce every woman in town. The arrival of the jealous Pinchwife however, newly married to an innocent country girl, sets Horner an altogether more difficult challenge.
Will the innocent Mrs Pinchwife succumb to Horner's charms?
Will Pinchwife's sister Alithea marry the hopeless fop Sparkish or will the rakish Dorilant win her over?
Will the husbands of the town find out the truth about Horner's "affliction"?
What is Mr Horner's China? Will Lady Fidget find it? Will he have any China left for Mrs Squeamish?
Cast
Crew
Reviews
Some review quotes go here
Gallery
Click here to view
Reminiscences and Anecdotes
Members are encouraged to write about their experiences of working on or seeing this production. Please leave your name. Anonymous entries may be deleted.
See Also
References
External Links