Our Country's Good (2012)
From sltarchive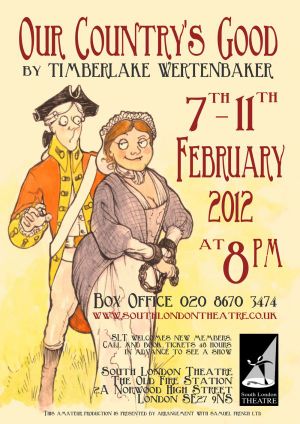 Performances: 8pm, Tue 7th – Sat 11th of February 2012, Bell Theatre
Introduction
In 1787, The First Fleet carried a cargo of convicts and Navy Officers and sailed to Botany Bay to establish a penal colony. Two years later the convicts were allowed to put on a play with the help of one of the officers and 'Our Country's Good' tells the story of this production from initial idea to opening night. The production faces many obstacles; from the vehement opposition from some of the officers to the threat that one of the female leads will be hanged.
The play is beautiful written with wonderfully powerful language and interesting, complex characters. The relationships on stage are complicated, funny and moving and will be great fun to play!
Cast
Crew
with Carole Coyne, Caroline Doyle, Chaz Doyle, Jono Gadsby, Naomi Liddle, Matthew Lyne, Lauri Morgan, Kathryn Ramsay, Steph Urquhart, Michelle Thomson, Melissa Williams.
The director and cast would like to thank Nick and Scott at The Park for generously donating rehearsal space, The Hope, Alan Buckman, Hans Mudlamootoo, Janet Haney, Jayne Hardy, Simon Holland, Jeanette Hoile, Naomi Liddle, Charlotte Vaight, Val Williams and all the volunteers at SLT.
Reviews
Some review quotes go here
Gallery
Reminiscences and Anecdotes
Members are encouraged to write about their experiences of working on or seeing this production. Please leave your name. Anonymous entries may be deleted.
See Also
Have there been other SLT productions of this play? Link to them here.
Or add anything that is related within this site. The author's page for instance or other plays with a similar theme.
References
<references/>
External Links