Oleanna (2008)
From sltarchive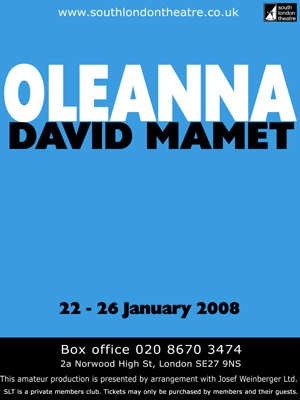 by David Mamet
Performances: Tue 22nd - Sat 26th January 2008, Prompt Corner
Captioned performance: Saturday 26th January
Introduction
A pompous university professor, John, calls a failing female student to a meeting to discuss the problems she has been having with her course. Is Carol as ungifted as we are led to believe, or is their inability to communicate the key to her lack of academic success?
The outcome of their meeting remains unclear until they meet again: Carol has lodged a complaint with the tenure committee, claiming sexual discrimination. John's position at the university is thrown into doubt, and as he fights for his job, it becomes clear that neither party will escape unscathed.
David Mamet's dissection of gender conflict and the student/teacher relationship pulls no punches; there are no black and white answers as the characters fight it out. The playwright's characteristically taut dialogue and a continual shifting of audience sympathies make this a classic of the modern theatre.
The title of the play comes from a folk song<ref>Oleanna on Wikipedia</ref> of the same name, which satirises a man's vision of the perfect society in a 19th century pioneer settlement. Mamet's play highlights the folly of setting such high and unrealistic ideals. In this case, it is the totem of unquestioning political correctness which is vilified: our inability to communicate causes civilised human interaction to break down.
Cast
Crew
Reviews
Some review quotes go here
Gallery
Production photos by Mark Davies
Reminiscences and Anecdotes
Members are encouraged to write about their experiences of working on or seeing this production. Please leave your name. Anonymous entries may be deleted.
See Also
Saturday 26th January is a captioned performance - Captioning converts the spoken word into text that provides people with hearing loss with access to live performance. In captioning, the words appear on a screen at the same time as they are sung or spoken. Captions also include sound effects and offstage noises. If you would like to book a seat within sight of the captioning unit, please ask at the box office when buying your ticket
References
<references/>
External Links