Not About Heroes (2003)
From sltarchive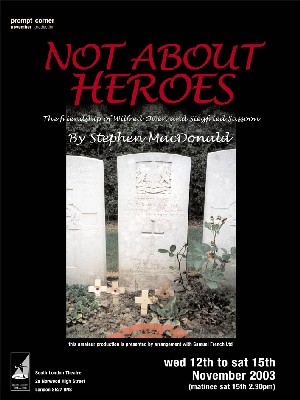 Directed by Kat Boyce
Performances: Wed 12th – Sat 15th November 2003, Prompt Corner
Introduction
1917: Two First World War officers meet in a mental hospital in Scotland, one has shell shock, the other doesn't. Both are poets, both are scarred by what they have experienced on the Western Front.
This play charts the friendship between Siegfried Sassoon and Wilfred Owen, which developed during their time at Craiglockhart War Hospital, through poetry, letters and dialogue. A deeply moving piece, we see the published poet and angry protester Sassoon help to develop the untapped talent of the shy, provincial Owen. They also wrestle with their own feelings about the war and their likely return to it.
Featuring the talents of James Sparling as Siegfried Sassoon and Will Howard as Wilfred Owen, this promises to be a deeply moving production, with plenty to engage and amuse an audience.
Cast
Crew
Reviews
Sitting there practically alone, taking photos every few minutes, suspension of disbelief can be a tad tricky, but this one did it. Two outstanding and moving performances of the type to incline me to stick to photography. I've never before left a theatre with a hankering to read poetry. If this doesn't get to you, you may well be already dead. Go see; take friends; take complete strangers, attention must be paid. Congrats all round.( special mention for superb lighting !)

Just a quick note to say a big well done to all those involved in this. I knew nothing of the subject matter, little of the history of the time, and was thoroughly engrossed. Two subtle, understated and well crafted performances (I never thought I'd use at least one of those words concerning Mr S) created a very moving evening.

Saw this last night and was very impressed.
I wasn't sure what to expect, but pretty soon found myself totally engrosed in the characters, brought to life by great writing and very believable performances. I've never seen a show so well lit in prompt, it really added to the 'feel' of each scene.
So full marks all round on the play, direction, acting, lighting, costume (though the squeaky boots were a bit of a distraction). Even the old photos in the foyer were excellent, it really added something to the whole production.
This is one of SLTs MUST SEE shows.

Indeed. This is without a doubt one of the finest things I've seen at SLT. Both James and Will perform with total conviction, which they sustain over a long show (just shy of 2 and a half hours) and draw the audience (well me at least, but most people I've talked to in the bar afterwards as well) into the world of the play completely.
And it's a fine piece of writing too - the script skips about in time to great effect as Sassoon narrates from his memoirs of his relationship with Owen - the various partings and meetings, the letters they exchanged from hospitals and the front, the night they wrote "Anthem for Doomed Youth" together under the stars outside a pub . . .
It's not easy for two actors to sustain interest over the long haul, and the challenges of these parts are many - at various stages Owen has shell shock and a slight stammer, Sassoon has picked up a ghastly head wound - but both perform with a subtlety and belief that makes the characters and their relationship come completely to life.
Watching J & W grope for lines in the last few rehearsals (for light-designing purposes), I wasn't looking forward to this very much at all. The fact that I'm contemplating with some relish seeing it for the sixth and seventh time tomorrow (there's a matinée at 2.30) leads me to conclude that there's something really rather magical afoot in prompt. Do see it if you can.

Just to add to the general chorus of appreciation - I was totally held by Will and James' very moving, excellent performances on Wednesday, and bravo Kat too for rising to the challenge of making this long, wordy piece so very compelling.

It was nice to have a few bangs and loud noises just to keep me awake.
But seriously..
I have to say that even such a manly person as myself was reduced to welling, not tears, the "stiff upper lip" helped to prevent that.
A thoroughly moving performance, and many thank-you's for making my Saturday afternoon such a delight! Definitely has to be one of the best shows i've ever seen, not to mention this year.

Just to add my congratulations. Must admit that having heard about length and temperature I was a little apprehensive about seeing this in my only part of the weekend not allocated to working/doing washing but I'm very glad I did - couldn't think of a better way to have spent it!
I thought this was a very touching production, the time didn't drag at all, and I had Matt's scarf to keep me warm in the second half. Also made me well and titter - not things which are easily achieved.
My only negative comment would be the squeaky boots which I found quite distracting at the beginning (although to be fair, after a while I didn't even notice them). Which is such a small point it was hardly worth mentioning anyway... oh well!
Well done everyone - this is the first SLT production I've seen since Spec2 and what a wonderful way to get back into it!
Gallery
Some rehearsal photos (Mark Davies).
Reminiscences and Anecdotes
Members are encouraged to write about their experiences of working on or seeing this production. Please leave your name. Anonymous entries may be deleted.
This was one of my all-time favourite productions at SLT - stunning performances from James Sparling and Will Howard left me blubbing and drained. Simply staged, beautifully lit, it shines out as one of those special SLT moments for me. (StueyD)
See Also
Have there been other SLT productions of this play? Link to them here.
Or add anything that is related within this site. The author's page for instance or other plays with a similar theme.
References
External Links