Les Liaisons Dangereuses (2001)
From sltarchive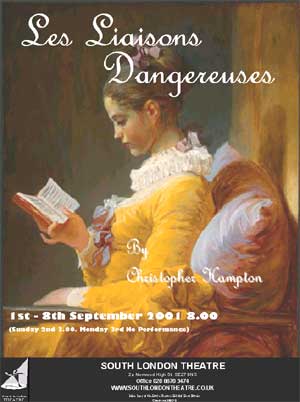 from the novel by Pierre Choderlos de Laclos
Directed by Anton Krause and Penelope Beaumont
Performances: Sat 1st – Sat 8th September 2001, Bell Theatre
Introduction
The characters who inhabit Laclos' famous 18th century novel are icy and dangerous. They alleviate the boredom of their over-comfortable Ancien Regime existences by using their wit, intelligence and power to play games with the lives of others. The fact that the consequences of these games may extend to ruin and death means nothing until it becomes their own. Baudelaire said of the novel at the time "If this book burns it is only in the manner of ice" and Christopher Hampton who wrote this award winning adaptation for the RSC in 1985 described it as "the best sex education any boy could have".
The play tells the story of the Marquise de Merteuil and her ex-lover the Vicomte de Valmont and their plans to destroy the reputation of fifteen year old Cecile de Volange in revenge against her husband-to-be, with whom they both hold grudges. Valmont initially considers the de-flowering of Cecile to be a job too easy for him to bother with and sets himself the task of seducing the married and famously virtuous Presidente de Tourvel. Complications arise however in the form of a young suitor for Cecile and the inconvenient circumstance that Valmont may be beginning to fall in love with his prey, the lovely Presidente.
Director's Notes <ref>Director's Notes - SLT Website</ref>
Cast
Crew
Set Design - Alan Buckman
Stage Manager - Jane Codd
Ladies' Costumes designed and made by - Alan Buckman
Men's Costumes by Val Williams
Lighting Design - Mike Elliott
Lighting Operator - Sarah Walters
Fight Direction - Clive Russell
ASMs - Yvonne Walters, Mandy Reed, Annette Wiseman
Prompt - Linda White
Publicity - Steve Ellis
Sound Operator - Lionel Monks
Miss Mill's hair by - Harold George, 49 Dulwich Village.
Set Construction - Anton Krause, Alan Buckman, Penelope Beaumont, Elaine Heath
Special Thanks to - Emma Howcutt, Elaine Heath, Jeanette Hoile, Geraldine Garner, Anne Gilmour
Reviews
Some review quotes go here
Gallery
Reminiscences and Anecdotes
Members are encouraged to write about their experiences of working on or seeing this production. Please leave your name. Anonymous entries may be deleted.
See Also
References
<references/>
External Links