Lear (2019)
From sltarchive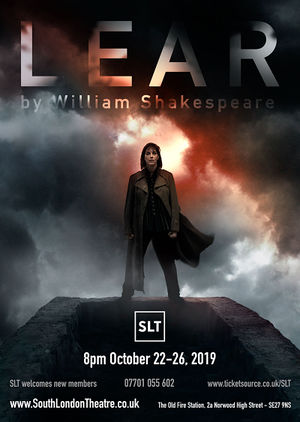 Directed & Designed by Bex Law
Performances: Tuesday 22 to Saturday 26 October 2019, Old Fire Station
Introduction
The action takes place in Britain, in the not-distant-enough future.
Cast
Crew
Thanks
Creating this production with the cast and crew has been an absolute pleasure - everyone has given their time and effort unreservedly, and I cannot thank you enough. In addition, special thanks to John at Portico Gallery, B&Q, Lydie for the perfect Lounger, the Sweeney Todd cast and crew for sharing rehearsal space so courteously, and of course all the magnificent box office, front of house and bar volunteers.
Reviews
It seems to be the case that if a show pretty much sells out before a run that people don't see the need to comment on it. But sometimes it feels only fair to recognise the sheer amount of work and commitment that has gone into putting an ambitious production together. King Lear, reimagined by Bex Law as just 'Lear' with a female monarch, turned my prejudices on their head by making the story more about the ceding of power and the un-considered consequences of that, than the tale of proud old age usurped I had always thought it to be. The steep set, with the audience looking down into what sometimes descended into a bearpit, was lit and decorated to convey a sense of a kingdom at the end of its tether, with rubbish strewn amidst a sparse greenery. All the accessories spoke of urban and societal decay, right down to the shopping trolley in which the Fool eventually transports the crazed Lear. The somewhat post-apocalyptic setting gave Helen Chadney, as a stern warrior queen, just beyond her clearly fearsome prime, the air of someone weary of leading a fractured country. Her elder daughters' poisonous resentment seemed stronger somehow, in the light of a mother who had previously had no time for them, suddenly demanding to be looked after. The production was notable for keeping a strangely plotted and often hard to follow story belting along at a cracking pace, but without any loss of clarity. In general the words were spoken with crispness, poetry and emotion, sometimes a tricky combination. Sitting at the front I saw and heard everything. And there were many excellent performances, in particular from Helen Chadney as Lear, a tremendous arc from power to tragic madness, Gloucester (Tom Melly) – vain and ridiculous but ultimately tragic, Bob Callender's indomitably faithful Kent, two completely wicked (in the old fashioned sense) performances from Ruby Todd and Laura-Jayne Hickerton as Goneril and Regan, a moving turn from Jason Rosenthal as the resurgent Duke of Albany and congratulations to Tom Mitchell for an Oswald for whom you actually grieved. Casting almost all the main roles as women, but without specifically feminising them except in terms of adaptation of the pronouns, worked effectively, except perhaps in the case of Edmund and Edgar – in particular the former – where some of the speeches are so specifically about that character's definition of masculinity that it seemed odd to have those words coming from a woman's mouth. But overall an inspiring version of a Shakespeare staple that converted this sceptic, burdened too by having done the wretched thing to death at A level.
Lisa Thomas
Gallery
Reminiscences and Anecdotes
Members are encouraged to write about their experiences of working on or seeing this production. Please leave your name. Anonymous entries may be deleted.
See Also
Have there been other SLT productions of this play? Link to them here.
Or add anything that is related within this site. The author's page for instance or other plays with a similar theme.
References
External Links