La Bête (2009)
From sltarchive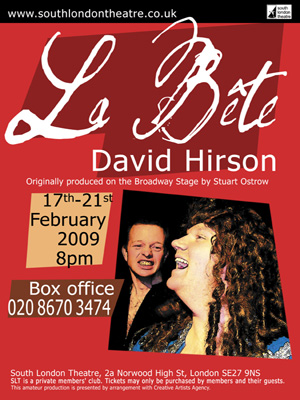 La Bête by David Hirson
Directed by Bob Callender
Performances: Tue 17th – Sat 21st February 2009, Prompt Corner
Introduction
La Bête is an exuberant comic whirlwind of a play, set in France in 1654 amongst the court theatrical troupe of the playwright Elomire. Their patron, the Prince Conti, feels the group's work has grown stale. So when he sees the troubadour Valere clowning in the town square, the Prince decides that Valere is just what's needed to re-invigorate the company and make its work more fun and accessible. But the principled Elomire has other ideas.
The American playwright, David Hirson, has pulled off a staggering work. A whip-smart comedy in rhymed couplets throughout, where high art and low, philosophy and slapstick, literature and pantomime contend for the crown of truth. The title, "La Bête", means "the beast" or "the fool", and as Elomire and Valere battle it out in front of the Prince, it's left up to the audience to decide what's what and who's who.
La Bête won the Olivier award for best comedy in 1992.
Cast
Crew
Reviews
Some review quotes go here
Gallery
http://www.photos.sltarchive.co.uk/thumbnails.php?album=56
Reminiscences and Anecdotes
Members are encouraged to write about their experiences of working on or seeing this production. Please leave your name. Anonymous entries may be deleted.
See Also
Have there been other SLT productions of this play? Link to them here.
Or add anything that is related within this site. The author's page for instance or other plays with a similar theme.
References
<references/>
External Links