Inheritance (2008)
From sltarchive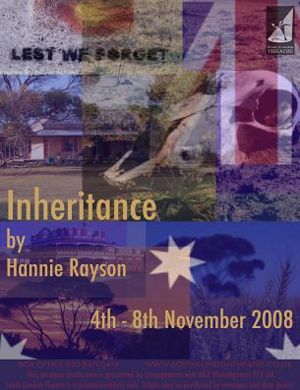 Directed by Peter Stevens
Performances: Tue 4th - Sat 8th November 2008, Bell Theatre
This production is the UK premiere of this play.
Introduction
"My friends, this is Australia, where people say g'day to each other in the street and lend a hand when they see a mate in trouble."
During the closing ceremony of the Sydney 2000 Olympics, the rock band Midnight Oil performed their international hit Beds are Burning with the word "SORRY" emblazoned on their clothes. They were supporting the campaign for a formal apology to the Aboriginal people of Australia for their suffering under white settlement. Conversely, two years earlier, Pauline Hanson of the overtly racist One Nation party had secured a parliamentary seat, and shot to notoriety with her maiden speech in which she asserted that "present governments are encouraging separatism in Australia by providing opportunities, land, moneys and facilities available only to Aboriginals."
First performed at the Melbourne Playhouse in 2003, Inheritance by Hannie Rayson explores Australian national identity through the personal relationships of a family. Rayson's powerful drama captures the rural perspective of those that work the land and attitudes behind these wider political issues. Although the setting is specifically Australian, the play deals with issues that have strong echoes in a Europe where the far Right is again garnering support, campaigning on the issue of national identity in a globalised world.
Set in the Mallee, rural north-western Victoria, the play begins as two families gather at the family farm to celebrate the 80th birthday of the Myrtle twins, Dibs Hamilton and Girlie Delaney (Pam Lyne and Margaret Glenn). Rayson presents their families, the tensions between generations and those who have stayed close to home and those who have moved away with a wry humour.
Julia Hamilton (Sanchia Leddy) is travelling back to the family farm, Allandale, from her home in Melbourne with her son Felix (Ryan Quinn) and some unexpected news. Meanwhile, her brother William (James Hough) is trying to persuade their mother, Dibs, to sell the farm and move with his partner, Kevin, to the Mornington Peninsula. Their father, Dibs' husband, Farley (John Lyne) is growing increasingly senile and only holding the farm together with the help of his adopted Aboriginal son, Nugget (Ed Annan). Meanwhile, Lyle Delaney (Bob Callender), who has worked the land all his life, is paying the price for a decision made by the twins following the death of their father, Norm Myrtle (Jason Lord). Lyle is struggling to sustain a living with his wife Maureen (Tina Patrick) and their daughters Ashleigh and Brianna (Yvette Misseldine and Karen Darroch). As the families gather, speculation grows and blood ties are tested as one question takes precedence: who will inherit the farm when Farley is gone?
Cast
All other parts played by members of the cast
Crew
Thanks.
I am indebted to Mike Elliott for his assistance and advice, Alan Buckman, Jess Osorio, Ian Riley and other members of flickr.com for the use of their photos of the Mallee. Carole Coyne, Anna York and Walkabout. Thanks to the cast and crew of Elegies and King Lear. Huge thanks to the cast and crew of Inheritance whose dedication to this production has been truly remarkable.
Reviews
Some review quotes go here
Gallery
Click on thumbnail for larger version.
Reminiscences and Anecdotes
Members are encouraged to write about their experiences of working on or seeing this production. Please leave your name. Anonymous entries may be deleted.
See Also
References
<references/>
External Links