Helene Hanff
From sltarchive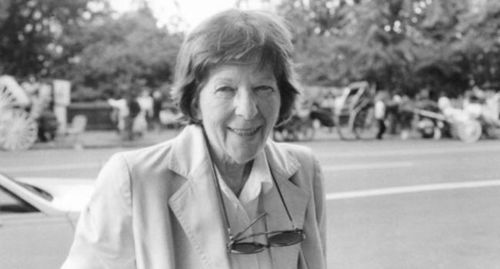 Helene Hanff was born on 15th April 1916, in Philadelphia, in modest circumstances. She always considered herself a playwright rather than an author. She began to study at the University of Philadelphia in 1935 but, after only a year, the family could not afford for her to continue and she began work as a typist. A mixture of jobs followed. Despite winning a grant to study drama with the Theatre Guild, success as a playwright eluded her, and she remained poverty-stricken.Eventually she found a job as a reader for a flm studio, given the task of writing synopses for scripts, in a day at $6 a script.
In 1949 she wrote to Marks & Co in 84, Charing Cross Road, to inquire whether she could ordeer the antiquarian books that were featured on a recommended book list by an Oxford academic, Sir Quiller-Couch. An unlikely friendship developed between the feisty New-Yorker and the mild-mannered bookshop staff, as her book orders crossed the Atlantic.
It was the publication of 84 Charing Cross Road in 1971 that made Helene famous, and the fortieth anniversary of this date was celebrated in June 2011. Afetr it was published, many readers wrote to Helene and, despite not all the letters including a stamped addressed envelope, they all received a reply. Even though she became very famous, she did not become very rich. More success came when the book was adapted for the stage by James Roose-Evans, and then in the 1980s was made into a film starring Anne Bancroft and Anthony Hopkins. Later, a follow-up to 84 Charing Cross Road was written, entitled The Duchess of Bloomsbury.
Helene Hamff died from diabetes on 9th April 1997, aged 80 years. She never married.
SLT Productions
See Also
External Links