84 Charing Cross Road (2011)
From sltarchive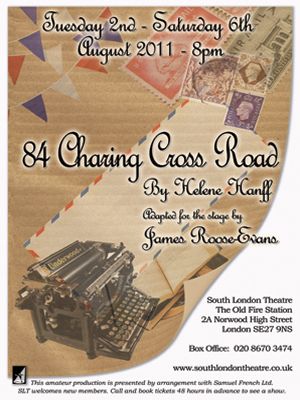 by Helene Hanff, adapted for the stage by James Roose-Evans
Directed by Jeanette Hoile
Performances: 8pm, Tue 2nd - Sat 6th August 2011, Bell Theatre
Introduction
The play is a dramatisation of the letters between a struggling writer in New York and an antiquarian bookseller in London. In 1949, Helene Hanff, in search of obscure books unavailable locally, contacted Frank Doel, the manager of Marks and Co, a bookshop in Charing Cross Road. A long distance relationship developed between the brash American and the reserved manager, which extended to his staff, and lasted 20 years. This true story of their correspondence included many literary discussions as well as the exchange of gifts as Helene eased the shortages of post WWII England with her food parcels and holiday packages. Sadly, Helene postponed her proposed visit to London for too long and Frank died in 1968. She wrote a book about their correspondence and, by then a successful writer, eventually visited the shop in 1971.
It is a very warm and moving story of a long distance loving relationship of two people who never met. Helene has a dry wit and never ending enthusiasm, and teases Frank out of his stiff formality into an affectionate relationship, which sparkles and makes entertaining watching as the letters and books ingeniously travel across the Atlantic and the stage! The fact that it is a true story makes it so much more poignant.
Cast
Crew

Sincere thanks to many people who have helped so much with this production. Nick Avenell at The Park & Sarah Gamboe-Beresford at The Hope for rehearsal space; Geraldine Cox & Barry Chambers at Kirkdale Bookshop; Chris Briggs, Tony Sherwood & Kevin Bennett at Emmaus; Jerry at The Lane Books; Judy Way at Bromley Little Theatre; Emma Kerby-Evans & Beckenham Theatre Centre; Jill Crawley & Gill farthing at Anerley Library; Guy Fairbank; Chris Vian-Smith for voice-over; Christine Theophilus; Adam Crook; Carole Coyne; Felix Catto and Glenn Aylott for the typewriter.
Many thanks to the wonderful cast and crew for all their commitment, support and dedication. Thanks to SLT Theatre Committee, Alan Buckman, Peter Stevens, Dave Hollander, Jenny Gammon, Lisa Thomas, Anton Krause, Mark Bullock, Jess Osorio and the Box Office team, Matthew Lyne and the Bar staff, the Front of House team and all the Raffle volunteers.
Reviews
I would expect that all of us in the audience knew what to expect from this production, and what we got was a delightful, poignant evening.
This is a really beautiful play: well written, elegantly acted, compelling to watch and a credit to everyone involved. Barry and Helen's performances are outstanding, the supporting cameos are expertly and deftly played and the whole piece is as absorbing a theatrical experience as one could hope for.
Wisely, the warm, clever, subtle humour is left to the audience to discover, rather than being forced upon us. Which means that when we discover it, we value it all the more.
I knew the story well already, but this was, for me, a really wonderful retelling. Jenny Mac
I was rapt. An excellent production of which all involved should be very proud.
Helen is very, very good indeed.
Congratulations to all. Jason
A warm and smartly acted show which kept me in anticipation of every new piece of correspondence. Given the premise, it should drag or get tiring. It really doesn't. Helen and Barry both brilliant and believable in their characters' context. And a special hats-off to the staff of Marks who, aside from the occasional interjections, forgo speaking parts and fill the shop with milling activity that really embellishes the vocal deliveries. The stage set-up was a fine spectacle too. Kellajatoo
In haste, so a brief but heartfelt endorsement of all that those above have said. A really enjoyable and beautifully nuanced production with wonderful performances from Helen and Barry and all the lesser characters who, although they don't have a lot to say, are utterly convincing. The set is a absolutely spot on, the handling of books (and the right-looking books) impeccable, and the period feel in acting, voices and costume impressive. Congratulations to director, cast and all who contributed. Michael
Everyone above has already summed this up perfectly. Having read the script, I didn't think it was my cup of tea, but I was proved spectacularly wrong by this beautiful production.
Completely engrossing, with an attention to detail from all performances that was awe-inspiring. I know everyone's saying it but, my goodness - Helen is simply INCREDIBLE. She completely inhabits that little apartment and along with Barry's tour-de-force turns this from a series of letters into a dramatic, engrossing and very moving story.
As has been mentioned before, the 'secondary' characters are also all perfect, giving a masterclass in background 'business', the importance of which is so often underestimated by directors.
If you miss this, you will have missed some of the best stage performances you will ever see at SLT. Science Fact. Naomi

Helen's performance was mesmerizing and tremendously moving with most of the audience in tears by the final scene. Barry's was a polished and beautifully realised character. All the supporting roles sympathetically and touchingly enacted. Hazel
Gallery
Phil Gammon's photos of the production are here
Reminiscences and Anecdotes
Members are encouraged to write about their experiences of working on or seeing this production. Please leave your name. Anonymous entries may be deleted.
See Also
References
<references/>
External Links