Foxfinder (2017)
From sltarchive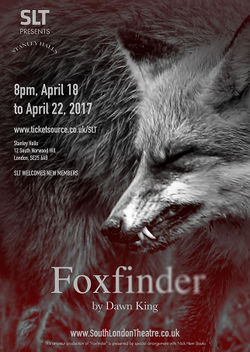 by Dawn King
Performances: Tue 18th – Sat 22nd April 2017, Upper Hall, Stanley Halls
Introduction
The English countryside.
Cast
Crew
Programme notes and thanks
Bringing Dawn King's splendid dystopian parable to life has been, perhaps paradoxically, an absolute pleasure. Working with such a talented and fearless group of actors has been an exhilarating experience. Thank you for taking it where some might have feared to tread.
As well as the cast and crew, what you see on stage this evening couldn't happen without the generosity of time, effort and expertise of so many people. Big thank yous are due to:
Carole Ironside, prop maker extraordinaire
Vanessa Colls, Naomi Liddle, Ellie Nye, Emma Christmas, Emma Kerby-Evans, Cal Beckett, Bob Callender, Clive Manning and Jade Harrison for their help in lending and locating particular items of costume and props
David Somner, Clare Haward, Amie Salmon and Q at Stanley Halls
Chaz Doyle
The tireless SLT box office and front of house teams
Lisa Thomas, our Theatre Committee rep
Last, but certainly not least, the cast and I would particularly like to thank Kim Goldsmith for her baking, endless good humour and innovative interpretations of subtext, which have added so much to the rehearsal process.
Mark Ireson, director
Reviews
From the SLT Facebook members group and the website contact page:
I have to admit the use of "dystopian" in the advertising for Foxfinder nearly had me running for the hills. It's up there (down there?) with "devised piece" as an encouragement to find something (anything) else to be doing that evening.
To arrive and find that the show ran for 1 hour 45 minutes, with no interval, had me seriously considering conjuring up a sudden and mysterious illness that required immediate bed-rest. Once the show started I was absolutely captivated.
The staging and the performances were an absolute delight. Each and every character was beautifully portrayed and I have absolutely no intention of singling out any of the cast (*). So often these days, diction takes a back seat as the actors prefer to emote. Well, theatre is about actions and words and I did not miss a syllable from any of the cast.
This was one of those scripts where you have just decided you know exactly how the plot is going to develop, but then the script pops up with a little twist that has you going back and re-evaluating what you have already seen.
For instance (and I don't think there are any spoilers here), the Young Man arrives. He is quite obviously the Man from the Ministry of Agriculture, who has arrived to ascertain the level of fox infestation in the area. No, no he isn't. His initial line of questioning tells us that there is a far more mysterious agenda here. Then... well, I really think you should go and see it for yourself, if only for the bunnies.
(*) I lied: I really do have to give a special mention to Benedict Andrew. His was a faultless performance, portraying so many facets of his character. I really hope we are going to see him in many future productions.''
Chris Vian-Smith

"Denial is a sign of collaboration" announces the freshfaced, insidious young Foxfinder who requires an inventory of livestock alongside the most intimate details of Sam and Judith's marriage. Evidence gathered in the shape of meticulously recorded answers confirms that under productivity on this farm (in all its forms) is exacerbating loyalty to the Motherland.
A richly spun narrative about mind control and the maintenance of power: by feeding our fears in the shape of...whatever the people can be convinced is the 'thing to be feared'. The message transcends the setting of this play - with time and coercion, we may become convinced of anything if our livelihoods are in jeopardy. We witness the 'jobsworth' attitude in times of austerity, betrayal is an easy option, passing the blame to protect our own....
Poignantly the current Benefits sanctions system with claimants being forced to defer to 'decision makers' is not disimilar to the foxfinders' modus operandi. A cautionary tale for all times and all people - always question what is real and what is spin.
Superb production, ticked all my boxes! In particular I appreciated the austere colour palette from both costume and set and I thought that the sound and lighting brought a necessary forboding quality to the story.
Also I do have to say that for me a straight run through with no interval was what totally achieved my complete engagement and genuine shock at the denouement. Bit good were that cast as well - strong, clear character portrayals.
And as for the.....er.... *no spoilers*....but there's some SUPERB PROPS I CAN'T SAY ANYTHING ABOUT HERE!!!!!
Please please please GO and see it!!
Many many congrats to cast,crew and directors!!
Suzy Jacobsen

Arrived at Stanley Halls last night having only had three hours sleep thanks to a nasty abscess, only to learn that the show was 105 minutes with no interval. This didn't improve my mood, it has to be said.
It just goes to show what good theatre can do, doesn't it? My attention was absolutely captured throughout, and I forgot all about my tooth. A good script, some really excellent performances, and tight direction took me out of my life and into someone else's utterly convincingly. Well done to all involved.''
Helen Chadney

Mesmerising performances from all - I especially loved the titular character who stepped straight out of Pinter with his menacing tones underscored with the uncertainty of a young man grown up too soon (I hope that's not too much of a spoiler!). There is so much to unpack in this tense parable of a plot and everything from the beautiful, stark set to the perfectly timed dialogue and of course the rabbits contributed to as professional and accomplished night at the theatre you could wish for.
Naomi Liddle

Foxfinder. That was amazing! A really clever, well-crafted script, excellent performances and brilliant design and use of tech. It's a really original premise, it's gripping from beginning to end, if you can get a ticket you have to see it. Ten out of ten, douze points and five stars from the Forest Hill contingent!
Gerard Johnson

SLT's impeccably performed production of Foxfinder maintains an uneasy atmosphere throughout, with ominous music/footage interludes overlapping a tense drama set within an ambiguous apocalyptic narrative. While the show does alienate its audience with overpowering notions of intrigue, SLT once again offers up the kind of show you won't see doing an extended West End run any time soon - and that's a good thing.
Daniel Kelly

Having seen last night's performance of Foxfinder I just had to record my enjoyment and admiration of this production. It really showed SLT at its finest. It demonstrated a superb combination of essential elements. A clever and flexible stage set where a bleak video and sinister music maintained the air of menace this play requires. The casting was excellent and all performances were sustained at the highest level, portraying the character of each persona totally believably throughout the twists and turns of this remarkable play.
Thank you to everyone involved in putting on this play - it was superb!
Jenny Caro

After the first night our publicity director Bryon Fear produced this video with some quotes from audience members: https://www.facebook.com/southlondontheatre/videos/10154234705257084/
Gallery
Reminiscences and Anecdotes
Members are encouraged to write about their experiences of working on or seeing this production. Please leave your name. Anonymous entries may be deleted.
See Also
Have there been other SLT productions of this play? Link to them here.
Or add anything that is related within this site. The author's page for instance or other plays with a similar theme.
References
External Links