Dealer's Choice (2012)
From sltarchive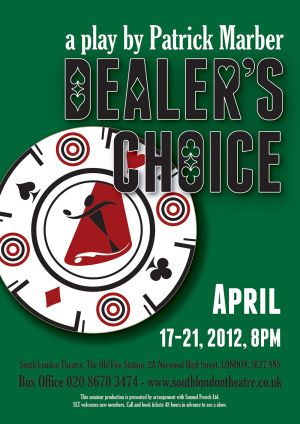 Directed by Anton Krause
Performances: Tue 17th – Sat 20th April 2012, Prompt Corner
Introduction
Patrick Marber had previously been known as a stand-up comic and actor in such programmes as: Knowing Me, Knowing You...with Alan Partridge, On The Hour and The Day Today ("Peter, you've lost The News!). In 1994, he submitted a draft of Dealer's Choice to the National Theatre and was immediately recognised as a natural playwright. He was allowed to direct the initial production of his play, which starred Phil Daniels and Ray Winstone and garnered multiple awards, including the 1995 Evening Standard Award for Best Comedy.
The play was partly based on Marber's own struggles with gambling addiction in the 1980s when he was bailed out from significant debt by his father. Written and set prior to the 'poker boom' of the early 2000s, the characters do not have the luxury of 24 hour internet poker to feed their cravings and, for them, their Sunday night game is the highlight of their week; an escape from their humdrum existences, in the same way that the Saturday night disco was for Tony Manero and his friends. A chance to 'live a little'. Marber's next play was the even more successful, Closer which was made into a major film in 2004. I still, however, consider Dealer's Choice to be his masterpiece (so far). The tightness of the writing allows him to convey a great deal of back story in very few words, a skill other modern playwrights would do well to emulate.
Having had the privilege of seeing the original National Theatre production, as well as the acclaimed 2007 revival at the Menier Chocolate Factory and the previous SLT production, I am glad to have finally been able to direct this play with such a dedicated and talented team around me.
The action takes place in the kitchen, dining room and basement of a London restaurant in the late 20th century.
Act I - Sunday evening, prior to service.
Act II - Later that evening, after service.
Act III - Later still, during the poker game.
Cast
Creative Team
With thanks to...
The Park (http://www.theparkse27.co.uk), Helen Chadney, Lisa Thomas, Jeanette Hoile and the cast and crew of The Deep Blue Sea, and all the lovely bar, box office and front of house people who have kept us going all week.
Reviews
Some review quotes go here
Gallery
Reminiscences and Anecdotes
Members are encouraged to write about their experiences of working on or seeing this production. Please leave your name. Anonymous entries may be deleted.
See Also
References
<references/>
External Links