Chimps (2013)
From sltarchive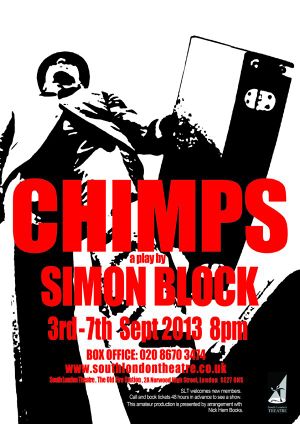 by Simon Block
Performances: Tuesday 3rd – Saturday 7th September 2013, Bell Theatre
Introduction
It's Saturday afternoon. Stevie and Mark have just bought their first home. She's a hard-working graphic designer, heading for her weekly self defence lesson; he's still the dreamer she met at art school, unemployed and working on his masterpiece: a pictorial alphabet for children. They're in love. Their first child is on the way. Everything seems to be in perfect order. And then the doorbell rings.
On the doorstep are Gabriel and Lawrence, two door to door salesmen offering a "free estimate", who convince the couple the walls of their house are about to collapse round their ears.
As luck would have it, they have an amazing product that can fix the problem…
Cast
Crew
Reviews
Some review quotes go here
Ilustrations
The script requires two large prints that Mark has created for his illustrated alphabet book. Hazel Hindle made these charming illustrations for the production:
Gallery
Phil Gammon's complete gallery of photos can be seen here but the one you want to see is:
Reminiscences and Anecdotes
Members are encouraged to write about their experiences of working on or seeing this production. Please leave your name. Anonymous entries may be deleted.
See Also
Have there been other SLT productions of this play? Link to them here.
Or add anything that is related within this site. The author's page for instance or other plays with a similar theme.
References
<references/>
External Links