Burst - a Warning from Recent History (2003)
From sltarchive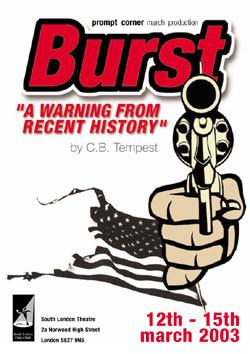 by C B Tempest
Adapted for the stage from a screenplay & directed by Steve Ellis
Performances: Wed 12th to Sat 15th March 2003, Prompt Corner
Introduction
"There's a thin line between life and death,
truth and deceit and dreams and reality."

Based on true events, this is the story of three young, intelligent people who all shared the same belief that society was beneath them and that they were above everyone else.
Jane and Ruth meet at university and the pair strike up a unique friendship that isolates them from their peers. Jane falls in love with Stephen, a moody, unemployed loner with extreme views and ambitions. He moves into the house that Jane and Ruth share, and falling in love with Ruth, he becomes the catalyst for the explosive events that cause their lives to burst apart.
Set in both Britain and America in the early to mid 1990s, this play looks at the issue of guns (once again hitting the headlines), and at how a lack of meaning and stability in life can unleash deep resentment.
Cast
Crew
Reviews
Some review quotes go here
Gallery
Reminiscences and Anecdotes
Members are encouraged to write about their experiences of working on or seeing this production. Please leave your name. Anonymous entries may be deleted.
See Also
Have there been other SLT productions of this play? Link to them here.
Or add anything that is related within this site. The author's page for instance or other plays with a similar theme.
References
<references/>
External Links