Boston Marriage (2005)
From sltarchive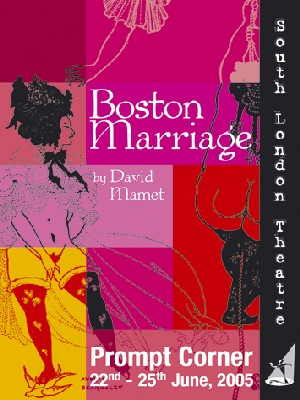 by David Mamet
Directed by Kat Boyce
Performances: Wed 22nd – Sat 25th June 2005, Prompt Corner
Introduction
It's Mamet but not as you expect it! Around the turn of the last century Anna and Claire are living together...Anna has a new lover who has given her a beautiful emerald necklace and her companion Claire wants to seduce a young woman, who, unfortunately, knows a little too much about the emerald. Mamet's comedy of manners, very much in the style of Coward or Wilde, shows how these two women react to this crisis that threatens their comfortable way of life. Funny and quite poignant Boston Marriage is an examination of relationships between women, class and put upon maids....
Cast
Crew
Thanks: The cast and crew of A Clockwork Orange (2005), Farndale and Throwing Stones (2005), Anna York, Simon Moody.
Reviews
Some review quotes go here
Gallery
Photo thumbnails go here with links to larger images.
Reminiscences and Anecdotes
Members are encouraged to write about their experiences of working on or seeing this production. Please leave your name. Anonymous entries may be deleted.
See Also
Have there been other SLT productions of this play? Link to them here.
Or add anything that is related within this site. The author's page for instance or other plays with a similar theme.
References