Beautiful Thing (2007)
From sltarchive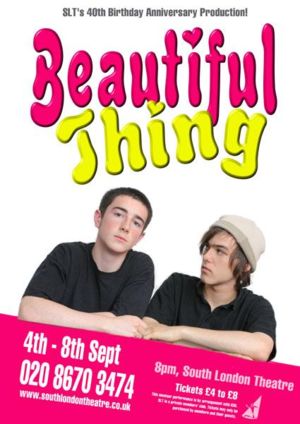 Directed by Elaine Heath
Performances: Tue 4th – Sat 8th September 2007, Bell Theatre

Summer, 1984. It's hot - and it's about to get a whole lot hotter!
Jonathan Harvey's critically acclaimed play, Beautiful Thing, comes to the SLT stage, in a lavish production to mark the theatre's 40th birthday celebrations.
With the Bell Stage transformed into a Thamesmead housing estate (complete with a bedroom that miraculously appears as if by magic) get ready for the feelgood, make you wanna clap your hands and dance up and down phenomenen that is Beautiful Thing - An Urban Fairytale.
Jonathan Harvey's best-known play was first staged at the fringe Bush Theatre in 1993, then went on to become a big West End hit and was filmed in 1996.
The title refers not to gay love as such, but to the first love experienced by two 16-year-olds, Jamie (David Clements) and Ste (Tom Bucher), one summer on a council estate in south-east London. Jamie bunks off from sport at school, while Ste is renowned for his all-round sporting prowess, but when Ste stays over one night after a violent argument with his father and brother, their mutual attraction develops into sexual awakening and romance blossoms.
Jamie's mother, Sandra (SLT newcomer Fiona Cullen), is too preoccupied with her shift work as a barmaid and with her dope-smoking artist boyfriend Tony (Chris Learmonth) to notice what's going on, but the Mama Cass-obsessed girl next door, Leah (Rita Goodhead), soon realises why Ste hasn't responded to her advances.
Much has changed since the play was written - including the repeal of the discriminatory Section 28 of the 1988 Local Government Act forbidding the 'promotion of homosexuality', the lowering of the homosexual age of consent to 16 and, most recently, the introduction of 'civil partnerships' for gay people - but Beautiful Thing has dated well because it is more romantic than polemical. This tender comedy of adolescent love retains its charm.

Jonathan Harvey's tale of love blossoming between two teenage boys in a Thamesmead council block still retains all the humour and emotional clarity that it did when the original opened over a decade ago. Great writing stands the test of time - the voices are still true.
Cast
Crew
Reviews

"With Beautiful Thing, the SLT celebrated its 40th anniversary. If they keep producing plays of this standard, they should be around for another 40 years at least."

A review by Rosemary Dean for EXTRA! EXTRA! The 40th anniversary production for the South London Theatre, Beautiful Thing, follows the story of two teenage boys in one hot summer on a Thamesmead council estate in 1993. Jamie (sensitive, wears glasses) and Ste (sporty, troubled home life) live on the same floor as Leah. Friendless and expelled from school, Leah spends her day listening to Mama Cass, whilst she and Jamie take a more than casual interest in Ste's comings and goings. During a particularly violent night in Ste's house, he sleeps in Jamie's room, and their unspoken feelings begin to emerge.
This production is the first to use actors the same age as the principal characters, and David Clements (Jamie) and Tom Bucher (Ste) live up to the challenge. The story is principally Jamie's, and so relies predominantly on David Clements' performance. Thankfully he handles this burden well, portraying Jamie's transition from surly and defensive to confident and (for the moment) happy. Both actors will have a promising future. But it is Fiona Cullen, making her stage debut as Jamie's mother Sandra, who is the stand-out of this production, enlivening a part which could easily become a caricature, infusing Sandra with simultaneous warmth and toughness. She switches from a love for her son which is often aggressive and intimidating to a simple compassion which belies her tough outer shell.
The bedroom scenes, the most crucial in this play, are let down by their staging. The placement of Jamie's bedroom upstage behind the main scene of the balcony was clearly for want of space, but it creates a jarring contrast with the downstage immediacy of the earlier scenes. Although this highlights the difference between the boys' public and private behaviour, it is at the expense of audience engagement, and introduces a hint of voyeurism in what is essentially a private moment. What should be an intimate situation feels physically and emotionally distant from the audience.
A derivative final act muddles Jamie's coming out with the comic sub-plot of Leah's Mama Cass-inspired drug trip which seems to serve no true purpose, merely reducing the momentum of the final scenes. It concludes with Mama Cass (and Leah) exhorting us to 'Make Your Own Kind Of Music', in case the moral of the past two hours wasn't entirely apparent.
Although Beautiful Thing is set firmly in 1993, it has hardly dated, aside from one embarrassing reference to East 17 being drug-free! But although the play itself hasn't changed, the world in which it is produced has. The plot is now a familiar one; teen dramas frequently have gay characters, and television programmes and plays as diverse as Queer As Folk and Angels in America being accepted as mainstream productions. It may be that a play which was once notable has lost
some of its impact, simply because the world has moved on.

Review on the SLT discussion board
Gallery
Reminiscences and Anecdotes
Members are encouraged to write about their experiences of working on or seeing this production. Please leave your name. Anonymous entries may be deleted.
The last performance on Saturday evening (8th September 2007) was attended by the actress Tameka Empson, who played Leah in the movie of the play. A few of the cast & crew knew before hand, but we made it our mission to keep it quiet from Rita, until after the performance.
See Also
Have there been other SLT productions of this play? Link to them here.
Or add anything that is related within this site. The author's page for instance or other plays with a similar theme.
References
External Links