Aladdin (2007)
From sltarchive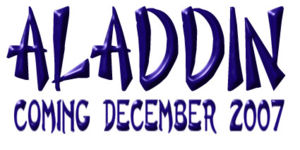 Directed by Stuart Draper
Performances: Mon 3rd – Sun 16th December 2007, Bell Theatre
Introduction
Arthur Laddin is a normal 16 year old boy, that is until a magic ring transports him into the Land of Dreams where Anything Can Happen. A case of mistaken identity sees him assume the role of Aladdin: he must find the magic lamp, release the Genie and do battle with the Evil Vizier Abanazer.
Aided and abetted by the hapless Wishee Washee, a truculent Widow Twankey and two of the campest policemen you have ever seen, Aladdin joins forces with the Genie and, together with his friends, takes on Abanazer for the battle to end all battles... With fabulous period costumes, magical sets, and incredible special effects, this is the one panto you cannot afford to miss!
The show runs Tuesday 4th December to Saturday 15th December 2007, with matinees on Saturday 8th, Sunday 9th and Saturday 15th. Evening performances start at 7.30pm. Matinee performances start at 2.30pm
Cast
Designers
Crew
Reviews
Aladdin - South London Theatre (Review)
Review by Marcela Olivares
THIS was my first panto ever! And I'm glad to say it was a lot of fun… To be honest, I wasn't sure what to expect but found myself pleasantly surprised!
The costumes were over the top and the lines were pretty witty… audience participation was pretty good and the performers managed to get everyone singing along to Abba's Waterloo, including my husband who does not sing!
This particular story starts off sad with Arthur Laddin getting into trouble all the time. His relationship with his dad is very loving but frequently difficult!
On the eve of his 16th birthday, however, he is transported to a magical land where adventures await…
Aladdin (Arthur) makes friends with Wishee Washee and his mum, Window Twankey… has a girlfriend, Jasmine, two genies and a mortal enemy, Vizier Abanezer, that he knew nothing about!
He's told by Jasmine that he MUST save the children – and that's all the children – being held captive by Vizier Abanezer, his henchmen, Picket and Scratchit, and the executioner, Chop Suey.
So, in pursuit of saving the children, Aladdin and his friends make wishes, dance and sing along with the audience!
Window Twankey (Jack King) was fantastic and delivered some of the best lines in the play, while Vizier Abanezer (Chaz Doyle) was an amazingly good/bad guy.
I had a great time watching this and I bet children will just love it! It's definitely worth heading to the South London Theatre to catch it this season!
Gallery
Photo thumbnails go here with links to larger images.
Reminiscences and Anecdotes
All the music is from the Eurovision song contest through the years
Members are encouraged to write about their experiences of working on or seeing this production. Please leave your name. Anonymous entries may be deleted.
See Also
Aladdin (1977) by Laurie Kenton
References
<references/>
External Links