Abigail's Party (2015)
From sltarchive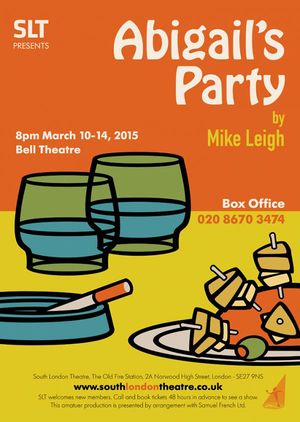 by Mike Leigh
Directed by Charlotte Benstead
Performances: Tue 10th – Sat 14th March 2015, Bell Theatre
Introduction
In a 2009 interview Mike Leigh said, 'Of course i recognise the enduring popularity of Abigail's Party. It still hits a nerve about the way we live. It's real even though it's apparently a heightened and comic play. It's a reflection of the realities of how we live on several different levels. It's about aspirationalism and materialism, love and relationships. Like much of my work it's about the disease I call "the done thing" - basically, keeping up with the Joneses.'.
Last performed at the South London Theatre in 1985, we hope you enjoy the show and find it relevant. You may never go to a neighbour's drinks party again.
Cast
Creative Team
Thanks
Hazel Hindle, Jen Palmer-Violet, Mark Ireson, Michelle Thomson, Lisa Thomas, Michael Holland, the cast of The Thrill of Love and all of SLT's unsung heroes who so generously give up their time and share their expertise for the sheer love of it- that means Box Office, Front of House, Theatre Committee, General Council & the Bar Team - you all rock!
A little top up and a big "cheers" to- Yvonne and the team at The Gipsy Hill Tavern, staff at Bambino, Flaming Nora and Trevor at Bits and Bobs.
Reviews
Some review quotes go here
Gallery
Reminiscences and Anecdotes
Members are encouraged to write about their experiences of working on or seeing this production. Please leave your name. Anonymous entries may be deleted.
See Also
References
External Links