A Life in the Theatre (1992)
From sltarchive
by David Mamet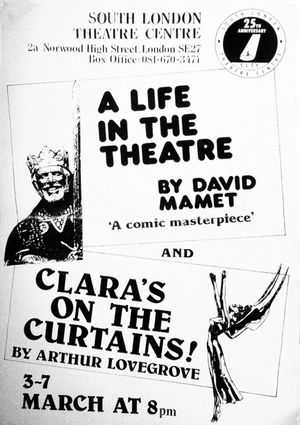 Directed by Pip Piacentino
Performances: Tues 3rd - Sat 7th March 1992, Bell Theatre
Introduction
A life in the theatre is spent giving things away. It is a life mobile, unstable, unsure of employment, of acceptance. We in the theatre tell stories about and on ourselves and colleagues, and these stories are exactly the same onesAristophanes told to and on his friends. It is vey important to tell and retell stories as the only real history of the ephemoral arts is an oral history. We acquire skills through constant practice. They accrue in incrementsso small that we seem to be making no progress. We lose competance in the same way - taking for granted our hard-won habits and barely aware they are leaving us. When you go into the professional worls, somewhere, backstage, you will meet an older actor - he will tell you tales and anecdotes about life in the theatre. He will speak to you about your performance and the performances of others; he will generalise to you, based on his experience and his intuitions, about teh laws of the stage. Not only do these people exist, but as one continues a theatrical career, one has a tendancy to turn inot them. My play "A Life In The Theatre" is a comedy about this life.
David Mamet
Cast
Crew
Reviews
The double bill at the Bell Theatre this week looks at theatrical life from two different angles. While the first play, Arthur Lovegrove's Clara's on the Curtains, is concerned with the hit-and-miss world of women's guild am-dram, the main offering, David Mamet's A Life in the Theatre is made of sterner stuff. Both plays are directed by Pip Piacentino, whose own love of theatre in all its forms is not to be doubted. It is clear that the main weight of his care has been expended on the Mamet two-hander, yet a certain wry affection for the bumblers and the stumblers is also evident in his treatment of the all-female curtain-raiser. In true Farndale Avenue fashion, the ladies of the Wickley Women's Guild are desperately trying to get their show on the road when their principal (Melanie Sullivan) has lost her voice and the officious producer (Ruth Shettle) seems determined to offend everyone in sight. It is a slight, unpretentious play, but quietly enjoyable in many respects. The theatrical temperature notably rises with the arrival of Karen Nott as one of your hearty boomers, but the others keep their end up well in varying degrees. Kim Chadney as the eponymous Clara overplays the panic a little, though in a good cause: and there is an elegant performance from Helen Chadney amid the general fluster. A Life in the Theatre features Alan Buckman as a seasoned actor (or ac-tor) and Keefe Browning as his younger colleague. In a series of brief scenes we see them making-up, rehearsing, doing their exercises and playing various roles. It is fast and funny, even wise; and two of the best episodes are played in the Coward and Chekhov manners. Buck up, man, there's life in the old theatre yet.
Donald Madgwick, The Advertiser, Friday, March 6th 1992.
Gallery
Reminiscences and Anecdotes
Members are encouraged to write about their experiences of working on or seeing this production. Please leave your name. Anonymous entries may be deleted.
See Also
References
<references/>
External Links