Wasted (2021)
From sltarchive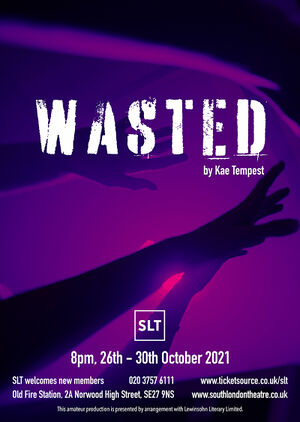 by Kae Tempest
Performances: Tuesday 26 – Saturday 30 October 2021, Old Fire Station
Introduction
Three old friends in their mid-twenties. One remarkable day. For Ted, Danny and Charlotte, it's time to seize control. Make a difference. Change things. This is it.
Cast
Crew
Thanks
Chaz Doyle, David Clements, and the fantastic SLT teams - Publicity, Box Office & Front of House, Bar, Wardrobe, Committee Members, and everyone else that helps to make these shows happen.
Special thanks to Kate Millar
Reviews
Grab a ticket now for Wasted, if you can. A trio of excellent performances from Ben Rathe, Jacob Smith and Maddie Dunn, simply but effectively staged by Bex Law. Fun, with some definite flashback moments. What does it mean to grow up? How and when do we get serious? And can we have it all? Buckle up, it's party time.
Simon Gleisner

Wasted is great fun with three stellar lead performances. Highly recommend seeing it while it's running - if not just to see Ben Rathe living out his sliding doors life
Tom Watts

Was on FoH for first night of 'Wasted' tonight and thought it was absolutely brilliant! The simple staging, ensemble performances and well conceived direction brought this cleverly written observation of the complex emotions of becoming fully adult to wonderful life! Don't miss this!!!'
Hayley Thomas

Don't waste time,
Get on line,
Book a ticket,
It's good, Innit!
Another great production by SLT. WASTED IS NOT TO BE MISSED.
Barry Heselden

A brilliant performance. Gripping, emotional and reflective. All performed on an amazing set.
Teresa Donoghue

Such a wonderful performance. Congrats to Bex Law and her talented cast!! Hope the after party was fun!
Roisin Deady
Gallery
Reminiscences and Anecdotes
Members are encouraged to write about their experiences of working on or seeing this production. Please leave your name. Anonymous entries may be deleted.
See Also
Have there been other SLT productions of this play? Link to them here.
Or add anything that is related within this site. The author's page for instance or other plays with a similar theme.
References
External Links