Tom Jones (2006)
From sltarchive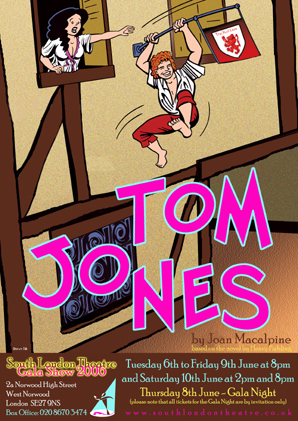 by Joan Macalpine based on the novel by Henry Fielding
Directed by Maria Bates Assistant Director - Paula Kelly
Performances: Tue 6th to Sat 10th June 2006, Bell Theatre
Introduction
Tom Jones is rich, ripe and rowdy. Tom, a man much beset by women and Squire Allworthy's adopted son, falls victim to the charms of one rustic wench after another, until at last the Squire grows tired of the trouble he causes and sends him off to cause it elsewhere. Then Tom becomes entangled with three women at once: Jenny Waters, a lady of warm heart and generous virtue, Mrs Fitzpatrick, a society lady seeking diversion from her oafish husband, and Sophia Western, whom Tom truly loves.
Cast
Crew
Reviews
With the world cup fever well and truly underway. And with a optimistic dream of success I'm expecting a huge baby boom to follow in July. Which if the story of what I witness yesterday afternoon carried on a few more acts we'd probably also have seen! Frolics, laughs and bawdy fun galore in this years Gala show, Tom Jones directed by the gorgeous Maria Bates. I'm still having memories of this time last year and 'The Queen of Clubs' sadly Maria wasn't in her own show but it certainly has her quick-wit, timing and English sense of humour stamped amongst the flowers and quilts.
Upon entering the auditorium the audience are welcomed by some beautiful violin playing performed by Louisa Evans. The music drifting amongst the gorgeously designed set. Purple flowers and Ivy climbing up the inside of a Somerset country house garden wall and slowly creeping outwards from the stage floor.
The artistry was unbelievable and (the Panto aside) like nothing SLT has ever witnessed before. Even being lucky enough to view close up the shading and beautiful eye for detail is incredible. Hazel and Hans and the rest who helped out must be applauded and commended on such a devastatingly brilliant set.
Of course let's not forget the awesome construction that has gone into this. The Allworthy/Red Lion is beautifully realised and only helps to make the production better than it already is. Built to a high standard this really wouldn't be out of place in a off west end production. I believe the multi-talented Chaz Doyle was responsible for a large part of this though it does seem like there were many hands that contributed.
The form and style of the piece is made transparent from the first Address. This is a story about Tom Jones. And the audience will jump in and out of the story when Tom talks as the narrator to the audience. I didn't think I'd like this style of Theatre but the comfortable and friendly approach that was delivered from Kester Hyndes mouth who played Tom Jones ensured that we would listen rather than switch off. He had a cheeky chappy edge about him that is always perfect in these roles. Add a few handfuls of charisma and a complete confidence in his own physicality and you have a man born to play the part. I'm thinking he may make a good Hamlet…
So the story without ruining it… OK.
Boy has a sweetheart… Sophie. Who he adores. She Adores Him. He is beset by several other women on his way to…. STOP! OK. Watch it for yourself… I'll just tell you about some of the performances instead.
Having quite a dark sense of humour myself I do like a good villain or in this stories case Villains. Blifil played by the aforementioned Chaz Doyle and Thwakum the teacher played by the always charming Joe St Johanser are simply darker than truly possible without ever having to go into panto. The enjoyment that oozes out of them both playing these roles is obvious. Especially when they are playing off of one another but equally so when they appear as individuals. Thwakum exiting Molly's house played by our mistress of comedy Angela Barnes had me in belly laughs. But the way Chaz Doyle strutted around the stage as Blifil made me want to leap onto the stage and draw swords with him. Truly excellent fun and well thought-out characters.
Michael Wilson as Allworthy has a wise but friendly nature that I'm really starting to like in every character he brings to the SLT stage. He has a very authorative voice but at the same time can bring a sensitivity and tone to it that makes you instantly side with him. Almost like the perfect Uncle or teacher. Though I think I'm a long way off of calling him Uncle Mike. From beginning to end he was a joy to watch.
Mrs Fitzpatrick played by Samantha Golton was brilliantly delivered. One minute playing the lady of the house. Then next an adders tongue would come lashing towards the audience as she poured scorn towards poor dear Sophie. Always very comfortable playing with the audience and the other actors on stage. I felt her change of physicality was always spot-on between the two sides of her and was one of the strongest performances in the play.
The set changes accompanied by music and period dancing was a beautiful touch and enhanced the piece rather than looking for an excuse to 'make sure we didn't notice the scene changers' and when I did it all looked perfectly natural. Which is to be applauded to the cast and director as this was no mean feat as there were some potentially (from reading the script) really difficult location changes.
Act One warms our palate for what is to come in Act two and three. But don't be put off the time really does fly by whilst remaining completely focussed on what is a traditional, well told and well directed story.
The farce of mistaken rooms in Upton is brilliantly done and will most certainly get better with every night it is performed. It reminded me of some of the episodes of Fraser, for those that have ever watched you'll know what I mean. People coming in and out of doors and never getting the right rooms. Seems the only one to benefit is the poor serving girl who keeps scrubbing the floor but at the same time seems to be getting an awful lot of money for her troubles. Good luck to her!
The amount of hard work and effort that has gone into this play is apparent. The Epic nature that seems to be delivered so fluently on stage will make it seem to the audience that it's all very easy and seamless. But then all the best shows do seem this way. If it ain't noticed then it must be good.
I've been away for a bit from the Theatre. But WOW! What a play to return to.
All should be very proud of what is a great piece of Theatre and with big audiences a well received show.
Book whatever seats are remaining now!
Mark Bullock
…………………………………………………………
I was very impressed by the set - as I think everybody else will be who sees the show. Kester Hynd's Tom Jones had the same engaging, relaxed quality which made him so noticeable in After Juliet - a very good choice for our likeable, randy hero. Other performances I particularly enjoyed were Chaz Doyle's icily superior young prig (a hilariously sustained charactisation, which was also very physically focused) and Samantha Golton's genially vicious society lady.
A great choice of show by Theatre Committee for the gala
David Lomas
…………………………………………………………
Tom Jones is a bawdy romp, full of fighting, snogging, roistering, courtly dancing and people bundling into the wrong rooms in a coaching inn. Maria and her cast and crew relished every aspect of this, and brought it off with a smirk and a swagger. I loved it.
The basics were all solidly in place. The costumes were well-chosen - and many of them must have been made specially. The set was cleverly designed, solidly built and beautifully finished. The cast all knew their parts backward, and had the fighting, rogering and jumping out of windows down pat.
But it was more than the sum of its parts. This team is out to give the audience a good time, and knows just how to do it.
It was nice to start with live music. Louisa Evans played her violin on stage as the audience came in - and looked sweet and surprised when the audience applauded. We swung straight on to an elegantly realised courtly dance, a crowd scene of bustling street vendors, and the entry of tousle-headed, genial Tom, played by Kester Hyndes, who lit the fuse on the story with a brisk monologue.
Kester combined charm, innocence and swagger - and a more serious side as the play went on.
Charles Doyle played Tom's half-brother (or cousin, or whatever) Bilfil, with a tight-lipped evil that was quite surprising in a role could have been just laughable. He put me in mind of Damian Lewis in TV's Forsyte Saga.
Penny Allen as beautiful, innocent Sophia had great interplay with Bilfil and her father, and some real chemistry with Kester - though the play rattles along so fast, they don't seem to get much time together.
As the two Squires Western and Allworthy, Matthew Lyne and Michael Wilson worked well together, again bringing surprising depths. Wilson's Allworthy is honourable and troubled, while Lyne's Western is a rough country squire whose genuine love for his daughter fights a losing battle with his greed, and whose Somerset accent is as solid and stubborn as he is.
Angela Barnes' Molly was lubricious but no slut, shifting smoothly from rolling in the bushes to top-note emotions. Joe St Johanser's Thwackum was a wonderful Rowlandson caricature of absurd moralism, sustained but not overplayed.
In the second act, Nick Mansley's Captain Fitzpatrick arrives. This man can sing, kiss and keep up an Irish accent - simultaneously! He claimed in the bar to have slipped into Australian at some point, but I didn't spot it. His fight with Tom was great, and well put together by Anton (all SLT plays should have an Anton swordfight inserted).
Samantha Golton's Mrs Fitzpatrick was reptilian and fascinating, with a sneer, but an icy attraction. Mrs Waters, played by Helen Brown, was a lively adventurer, with a warm heart for the right man - or men.
I liked Heather French too, as Susan, the maid at a country inn with the Fawlty Towers touch. She scrubs the floor with a screeching Sybil Fawlty monologue, extracts money from every single person who passes her, presides over an extended "wrong rooms" farce sequence and still finds time to flirt with Tom.
Lord Fellamar was always gong to be a problem. It's a bawdy romp, but there's an actual sexual assault going on here, with screaming and struggling, which is likely to be uncomfortable to audiences and cast. Steve Imrie arrived looking louche and nasty, but to me seemed to lose his nerve a little on the first night, when called upon to be really rotten - or was I still seeing him as Panto's Mr Tickles? He gave great affronted dignity as he insulted the country bumpkins on his way out.
The other supporting parts were good - Dave Hollander's constable was ready to usher Tom out of this world with a patronising smirk. The others - Jem Solak, Louisa Evans, Anna York, Graham Clements, Mark Ireson, Hazel Hindle Alison Dale and Jean Dobson - all hit the right note.
Charles' set design combined a garden, a cottage, an inn, houses in London and Somerset, and a gallows, all without any major moves, and still leaving plenty of space for the action. A quick change of props and furniture set each scene - and the painting by Hazel, Michael and Hans was beautiful (check out the ivy on the cottage wall!). Sometimes the bed at the back seemed a little dark and distant, from the front row.
The first night had a couple of words fluffed, and a faint stiffness that I know is going to melt from tonight. These people have a cracking play, and they and we have five more performances to enjoy!
Peter Judge
Gallery
Reminiscences and Anecdotes
Members are encouraged to write about their experiences of working on or seeing this production. Please leave your name. Anonymous entries may be deleted.
See Also
References
External Links