Tilly of Bloomsbury (2023)
From sltarchive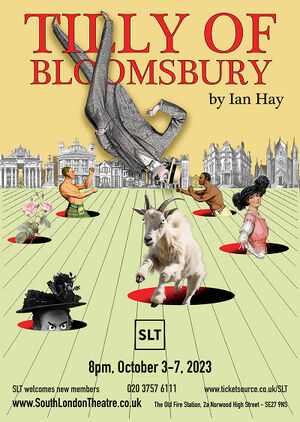 by Ian Hay
Performances: Tue 3rd – Sat 7th October 2023, Old Fire Station
Introduction
It's the 1910s and young Matilda Welwyn and Dicky Mainwaring have fallen in love on a London Omnibus. But what they've failed to consider is that his parents are as posh as they come, and hers . . . well the boarding house they keep is full of angry lunatics and the bailiffs have just arrived to repossess it and what's that . . . Dicky's family are coming for a visit . . . now?
100 years old and the comedy still as crisp as a freshly-starched shirtfront, this was the first script ever performed at the Old Fire Station.
Cast
Crew
Reviews
Tilly of Bloomsbury is a rediscovered forgotten gem. Super performances all round, loveable characters and some choke on your drink one-liners. Really great to see a quirky comedy like this that also lets the SLT wardrobe shine. Well done everyone involved. Get your tickets for an utterly charming night out.
Bryon Fear

I agree. It's a really funny play driven along by some great comic performances, dont miss it!
Chris Stooke

Congrats to the Tilly Team. A lesson in how to put far too many characters on our modest stage to delight and amuse. Just goes to show how true comedy doesn't date. The Same Deep Water cast and crew will do our best to follow on ….with fewer fancy hats but a similar number of servings of tea.
Guy Jones

Great show tonight, totally bonkers as we expect from Bob Callender , enjoy the next 2, Boblanders!
Christine Theophilus

An enjoyable evening watching this show is just what the doctor would order as the nights draw in.
Adam Crook

Completely agree! Loads of fun and silliness. Really enjoyed it. Well done Bob Callender and team!
Chaz Doyle
Gallery
Reminiscences and Anecdotes
Members are encouraged to write about their experiences of working on or seeing this production. Please leave your name. Anonymous entries may be deleted.
See Also
Have there been other SLT productions of this play? Link to them here.
Or add anything that is related within this site. The author's page for instance or other plays with a similar theme.
References
External Links