The Shape of Things(2014)
From sltarchive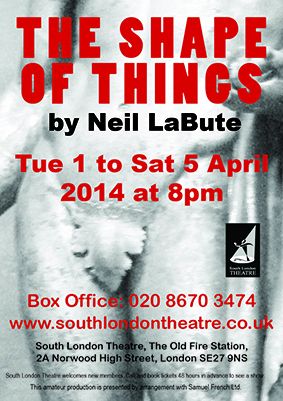 by Neil LaBute
Performances: Tue 1st – Sat 5th April 2014, Bell Theatre
Introduction
Text about the play
Cast
Crew
Thanks
With special thanks to: Jeanette and the Front of House volunteers, Jess and the Box Office volunteers, Matthew and the Bar volunteers, Siobhan Campbell, Lucy Fletcher, Ruth Huggett, The Hope pub and The Rosendale for rehearsal space, Gary Chandler and Steve Jones.
Reviews
Some review quotes go here
Gallery
Reminiscences and Anecdotes
Members are encouraged to write about their experiences of working on or seeing this production. Please leave your name. Anonymous entries may be deleted.
See Also
Bash: Latter Day Plays (2010) by Neil LaBute
References
<references/>
External Links
Edit Categories below - Bell or Prompt AND THEN REMOVE THIS MESSAGE!