The Last Days of Judas Iscariot (2009)
From sltarchive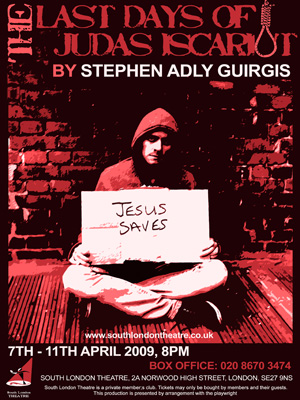 Directed by Mark Bullock
Performances: Tuesday 7th to Saturday 11th April 2009, Bell Theatre
Introduction
"Downtown Purgatory - Next Case: 'God and the Kingdom of Heaven and Earth versus Judas Iscariot'
The Last Days of Judas Iscariot takes place in Hope, a small section of Purgatory where litigation determines the fates of its inhabitants. Thanks to a writ signed by God himself, Judas Iscariot - Jesus's infamous betrayer - is on trial, though he is in a catatonic state in Hell. In a hilarious and well-written dramedy, viewers will find themselves questioning their own opinions on despair, morality and salvation.
Cast
Crew
Reviews
FAR from being a villain, Judas Iscariot was just the wrong man in the wrong place, writes Mark Campbell.
At least that's what Stephen Adly Guirgis thinks in his potentially intriguing play The Last Days of Judas, performed last week at the South London Theatre (SLT) in West Norwood. Judas (James Watson) slouches vacantly in Purgatory while defendant (Caroline Doyle) and prosecutor (Simon Gleisner) wrangle with the judge (John Lyne, in his 100th SLT show) over whether the accused should be sent above or below. Witnesses are called, including Judas' mother Henrietta (Juliet Holden), Satan (Matthew Platt), Pontius Pilate (Brian Yansen) and Sigmund Freud (Alan Buckman).
But the conclusion, and I won't reveal it here, seems hardly worth the effort. It's a funny old play. A lot of the time it's funny ha-ha, with deliciously laugh-out-loud moments courtesy of some hilarious characterisations, but it's equally as much funny peculiar, especially during the second half, when you start wondering...why? Why is it set in the ghettos of New York? Why is there so much swearing? Why is Mother Teresa from the Deep South? Why is the prosecutor a comedy Egyptian? Why is it two-and-a-half hours long? Etc.
Director Mark Bullock assembled an excellent cast.
Every part was well played. Alan Buckman was sublime as the repressed Freud, John Lyne flawless as the George Burns-style judge, and Simon Gleisner hilarious as the Fez-wearing prosecutor.
As a one-act play it would have been very enjoyable. Up to the interval it was. But as the second half dragged on and we began to have the witnesses cross-examined again, a sense of familiarity crept in and by the time of Matthew Lyne's closing monologue, I was wondering when it would end.
The overriding message - "There but for the grace of God go I" - is a worthy one, but Guirgis really needs to pare it down to make the play truly successful.
Mark Campbell bexleytimes.co.uk 22 April 2009
Gallery
Reminiscences and Anecdotes
See Also
References
<references/>
External Links