The Elephant Man (2008)
From sltarchive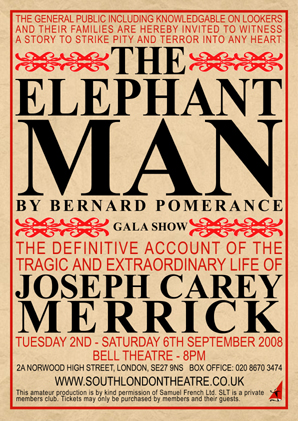 Directed by Anton Krause
Performances: Tue 2nd – Sat 6th September 2008, Bell Theatre
Introduction
The true story of Joseph 'John' Merrick, born with hideous physical deformities into a Victorian Britain which in turns spurned and exploited him. The play opens with Merrick being exhibited to gawping strangers as a circus freak and moves on to tell of his relationship with Dr Frederick Treves who takes him in and cares for him at the London Hospital. Treves soon finds that there is a sensitive and intelligent human spirit beneath the horrifying exterior and introduces Merrick to the great and the good of Victorian society. But is he simply exhibiting him to a new set of thrill seekers?
This touching and sensitive play garnered numerous awards both in London and New York when first produced in 1979. Very different from the famous film version with John Hurt, Merrick is portrayed with no prosthetics or make-up whatsoever.
Cast
Crew
Reviews
Some review quotes go here
Gallery
Reminiscences and Anecdotes
Members are encouraged to write about their experiences of working on or seeing this production. Please leave your name. Anonymous entries may be deleted.
See Also
References
<references/>
External Links