The Children (2022)
From sltarchive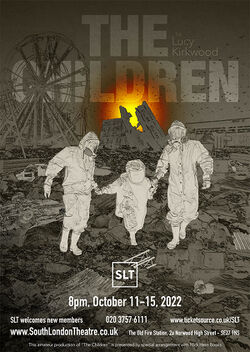 Performances: Tue 11th – Sat 15th October 2022, Old Fire Station
Introduction
Two ageing nuclear scientists live in an isolated cottage on the coast, as the world around them crumbles. Then an old friend arrives with a frightening request.
Cast
Crew
Reviews
Well done to The Children cast and crew! ... A cast of three doing excellent work. It's well worth your time! - Will Howells
Top stuff this evening from the cast of The Children - gripping, moving and extremely funny. - Mark Ireson
AMAZING work from all involved in The Children! Wonderful, naturalistic writing (gorgeous to listen to, but tough to learn!) coupled with sophisticated and moving performances from this cast of three. There's dancing and yoga and salad and Geiger counters. Nuanced and brilliant. - Jessica Shiner
Engaging, slick, tight and totally absorbing was the performance of the Children tonight. Excellent acting and direction. Well done everyone - Kay George
Congratulations to Robert Wallis and his magnificent cast on The Children, an extremely good piece of writing with dialogue that's so real it feels like it's a verbatim script. The actors do it real justice with lots of light and shade - it's funny, moving and really worth seeing!! - Bryon Fear
Thoroughly enjoyed Robert Wallis [sic] production of The Children last night. If subtle, naturalistic & nuanced performances are your thing then don't miss this. It was a pleasure to see something that came across as intelligent, thought provoking, tender and to experience honest portrayals of characters without seeing much 'acting' and more of the truth. Well done all. All the best for the rest of the run. - Martin Copland-Gray
3 Stirling [sic] performances this week. Highly recommend Robert Wallis directing debut. Beautifully written, rounded older characters that never fall into stereotypes. The play asks all kinds of questions. No spoilers go and see it. - Charlotte Benstead
Gallery
Reminiscences and Anecdotes
Members are encouraged to write about their experiences of working on or seeing this production. Please leave your name. Anonymous entries may be deleted.
See Also
Have there been other SLT productions of this play? Link to them here.
Or add anything that is related within this site. The author's page for instance or other plays with a similar theme.
References
External Links
SLT podcast Rob Wallis talks about the play, his production process, as well as his experience at SLT.