Members Mix (2023)
From sltarchive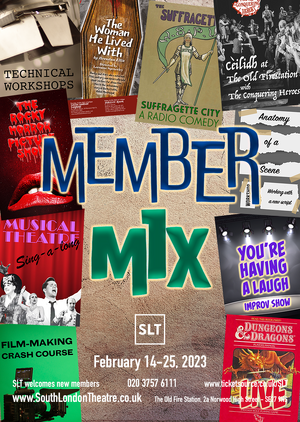 Ten days of entertainments created by SLT members, 14 to 25 February 2023, Old Fire Station
Filmmaking Crash Course
Wednesday 15 February
Presented by Leon Chambers
Have you ever wanted to visit a film set and see how a film is made? Well, here's your chance. Filmmaker and SLT member Leon Chambers will be shooting and editing a short scene with the help of members of the audience who will become his crew for the evening. Come along and get involved, and learn what those odd terms such as Best Boy in the end credits actually mean.
The Woman He Lived With
Thursday 16 February
Written by Brendan Ellis
Directed by Lorraine Spenceley
Burke and Hare killed a reported 16 people and sold their bodies to an anatomist in Edinburgh in 1828. Burke's wife, Helen MacDougal, was put on trial for murder along with him, thanks to Hare turning King's evidence against them. Whilst the case against Helen was not proven, she was driven out of Scotland. This is her story.
Musical Theatre Singalong Night
Saturday 18 February
Presented by Katrina Rublowsky
Dungeons and Dragons Day
Sunday 19 February
Workshop
Curious about Dungeons and (or) Dragons? Seen Stranger Things and thought that that looks fun (the bit where they play D&D, not the mortal peril)? Ever wanted to play D&D (or pretend to be in mortal peril)? You can!
Spend the afternoon with one of SLT's friendly Game Masters - Tiffany Manning, Oliver Adkin and Tom Mathias, who will host you in the SLT bar, give you everything you need to play and you will make your way through a special, exciting adventure (mortal peril may or may not be involved)!
Live Game
South Waterdeep Theatre has just received the worst news: they are being kicked out of their dockside premises to make way for an adventuring-themed escape room. Or a mini golf course. Or… interactive pingpong? One of those three.
In a last ditch attempt to save the theatre, a group of unlikely thespians have come up with a plan to put on the show of their life and raise enough money to out-bid the next buyer. The catch? They've got to find one hell of a play. Rumours of a long-lost manuscript buried in the ruins of the old Palacium theatre, home to the greatest writers of their time, have circled for decades, but no intrepid adventurer who has gone in to retrieve it has ever come out again…
Can Gunnar, Laurel, Drysrinn, and Mohmi retrieve the script and save their theatre? There's only one way to find out. Join them as they play through a tale of drama, excitement, and goblins!
Technical Workshop
Monday 20 February
Suffragette City
Tuesday 21 February
Written and directed by Will Howells
A fast-paced half-hour radio sitcom about the plucky suffragettes and suffragists of the Wimbledon & Croydon Area Women's Action Committee. This is the pilot episode's world premiere, performed script in hand as if it were on the wireless. The play will be followed by a sitcom quiz, also devised by Will.
The Looked After Kid - Anatomy Of A Scene
Wednesday 22 February
In 2018 Paolo Hewitt adapted his bestselling book The Looked After Kid for the stage and held two rehearsed readings at the Arcola Theatre in Dalston. He is now revisiting this important piece with a view to a full production. Paolo invites you to a special evening where with a group of invited SLT actors, he will explore the anatomy of the first scene of the play. There will also be an open discussion after the workshop, where the audience can pose questions to Paolo and the acting company on the journey from book to play and the process itself.
You're Having A Laugh
Thursday 23 February
An evening of improvised fun and games with Tom Mathias and his talented team of SLT improvs plus guests.
with guest teams Judge Moody and Disco Disco
The Liar
Friday 24 February
A reading of David Ives' adaptation of Pierre Corneille's comedy, organised by Mark Ireson
Paris, 1643: Dorante is a charming young man newly arrived in the capital, and he has but a single flaw: he cannot tell the truth. In quick succession he meets Cliton, a manservant who cannot tell a lie, and falls in love with Clarice, a charming young woman whom he unfortunately mistakes for her friend Lucrece.
What our hero regrettably does not know is that Clarice is secretly engaged to his best friend, Alcippe. Nor is he aware that his father is trying to get him married to Clarice, whom he thinks is Lucrece, who actually is in love with him. And let's not forget the pair of identical twin servants…
Cèilidh with The Conquering Heroes
Saturday 25 February
Reviews
Some review quotes go here -->
Gallery
Reminiscences and Anecdotes
Members are encouraged to write about their experiences of working on or seeing this production. Please leave your name. Anonymous entries may be deleted.
See Also
Have there been other SLT productions of this play? Link to them here.
Or add anything that is related within this site. The author's page for instance or other plays with a similar theme.
References
External Links
-->