Low Level Panic (2019)
From sltarchive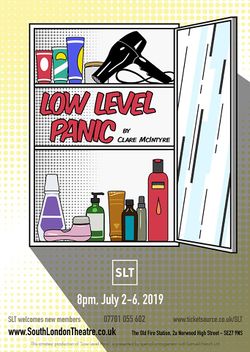 Performances: Tue 2nd – Sat 6th July 2019, Old Fire Station
Introduction
The action takes place over the course of one day. In a shared bathroom.
Cast
Crew
Thanks
First of all thank you to Dave Hollander for introducing me to the play. It's all his fault. Thanks to the cast and crew of Pomona for all their help - much appreciated Also to Tom Melly. As always huge thanks to Chaz Doyle for going with my ideas and making them work, and to Bryon for making it all look sexy. Must also emphasise just how amazing Sean is. We are so lucky to have the team we do at SLT.
I'd like to thank the Cast & Crew for goingwith my ideas, trusting me and letting me use them as puppets. Thanks to TC for their support and input.
Lots of gratitude to West Norwood Local (and youth theatre parents) who kindly donated us the amazing bath.
any thanks to all the volunteers: bar, box office, wardrobe, publicity who keep the place going. Last but not least, thans to Ginger for bearing with me the last few months, listening to endless song suggestions, making late night dinners and putting up with random actors stripping off in the living room and shouting at each other.
Reviews
Some review quotes go here
Gallery
Find more photos here
Reminiscences and Anecdotes
Members are encouraged to write about their experiences of working on or seeing this production. Please leave your name. Anonymous entries may be deleted.
See Also
Have there been other SLT productions of this play? Link to them here.
Or add anything that is related within this site. The author's page for instance or other plays with a similar theme.
References
External Links