Hobson's Choice (1985)
From sltarchive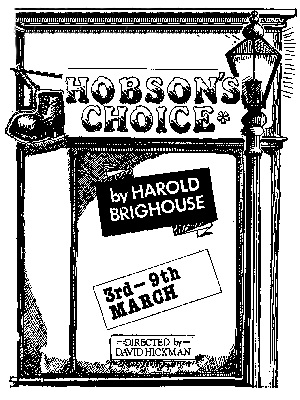 Directed by David Hickman
Performances: Sat 3rd - Sun 9th March 1985, Bell Theatre
Introduction
The action take place in Salford, Lancashire in Victorian England.
Act I - Hobson's shop in Chapel Street.
Act II - The same, one month later.
Act III - Will Mossop's shop.
Act IV - Living room of Hobson's shop - one year later.
Cast
Crew
Reviews
.......David Hickman's production for the SLTC is at the Bell Theatre and in Maggie Cearns it boasts a Maggie Hobson of natural authority, a determined lady whom it is a joy to follow through her courtship of and marriage to her father's put upon bootmaker. She handles the role with a considerable skill, portraying a warm-hearted character whose main mission in life is not to crush her husband but to bring out his own latent powers.
Martin Leech is a likeable Willie Mossop, although too prone to blend into the background and without clear line of development from wage-slave to master.......... Helped on his way by the acid cameo of Duncan MacNaughton as the forthright Dr MacFarlane, Ken Lucas's Hobson collapses nicely from blustering bully to beaten pater-familias. Yet a more deliberate style would help to flesh out the character, a less staccato line of attack. The pomposity tends to be smothered by the blazing guns.
Jo Archer and Jenny Ford give good value as Maggie's two feckless sisters and there is a general level of competence in the suporting cast, with particularly solid performances by Quinton Cobby and Paul Campion as the two suitors who just about deserve the lesser Hobsons they bring to the altar.
Donald Madgwick - the Croydon Advertiser, reprinted in SCENE by permission of the editor.
Gallery
Photos by Charles Cheetham. All, except first, restored from 35mm film contact sheet.
Reminiscences and Anecdotes
Members are encouraged to write about their experiences of working on or seeing this production. Please leave your name. Anonymous entries may be deleted.
See Also
References
<references/>
External Links