Gabriel (2023)
From sltarchive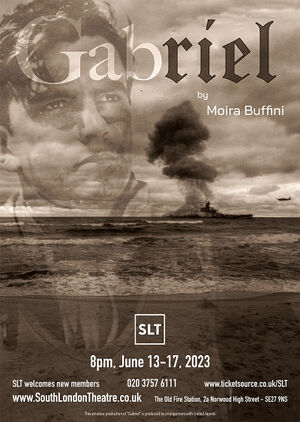 Performances: Tuesday 13 – Saturday 17 June 2023, Old Fire Station
Introduction
Following the German invasion of the Channel Islands in 1940, the Becquet family's Guernsey home has been requisitioned for German officers. As widowed matriarch Jeanne navigates the dangerous game of the new commander's attraction to her, her daughter-in-law Lily discovers a mysterious young man washed up on the shore. Wracked by fever, the man remembers nothing, including his own name; with equal probability he's British or German. Lily and Jeanne's young daughter Estelle convince her to shelter him until his memory returns. But harbouring this fallen angel threatens the modicum of safety and stability Jeanne has wrung from her family's dispossession.
Cast
Crew
Reviews
Some review quotes go here
Gallery
Reminiscences and Anecdotes
Members are encouraged to write about their experiences of working on or seeing this production. Please leave your name. Anonymous entries may be deleted.
See Also
Have there been other SLT productions of this play? Link to them here.
Or add anything that is related within this site. The author's page for instance or other plays with a similar theme.
References
External Links