Deathtrap (1998)
From sltarchive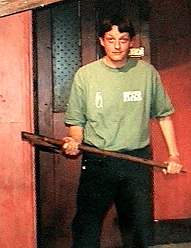 by Ira Levin
Directed by Anton Krause
Performances: Tuesday 1st - Saturday 5th September 1998, Bell Theatre
Introduction
IRA LEVIN, famous for such novels as "The Boys From Brazil", "The Stepford Wives" and "Rosemary's Baby", is an accomplished master of the art of subverting the ordinary and finding the sinister in the mundane. The last time The South London Theatre presented one of his theatrical works ("Veronica's Room" in 1992) I found myself gripped from start to finish and was surprised that I, as an avid reader of Levin's fiction, was unable to even attempt to predict the outcome. Had I read "Deathtrap" at the time I do not believe that I would have been so surprised.
Levin wrote "Deathtrap" as a deliberate attempt to pay homage to the thriller genre whilst at the same time some poking gentle fun at it. What he succeeded in doing was writing a thriller that at time surpasses those classics as "Dial 'M' For Murder", "Angel Street" and "Sleuth" to which it tips its hat in both dialogue and construction. "Deathtrap" in fact overtook Shaffer's "Sleuth", to which it is often compared, as the longest running Broadway thriller and the longest running non-musical of the 70s.
Our production features the talents of Alan Buckman, Jack King, Anne-Marie Carlile, Jill Davies and Des Muller in a play which will leave your minds reeling with its intricate twists and turns and which will certainly sell out early. Please remember to book or ideally buy your tickets early and arri ve on time as NO-ONE WILL BE ADMITTED TO THE AUDITIORIUM AFTER THE SHOW HAS STARTED.
Please note that this show contains scenes which may be unsuitable for children and those of a sensitive disposition.
Anton Krause, director. <ref>SCENE Sept 1998</ref>

The action takes place in Sidney Bruhl's study - Cambridgeshire 1976.
Cast
Crew
Reviews
ANTON KRAUSE'S PRODUCTION of Deathtrap gave us an evening of excellent thriller quality.
I, like the rest of the audience, left the Bell Theatre full of acclaim for the evenings havoc with our nerves/pacemakers.
Rev. Ewer <ref>SCENE - October 1998</ref>
Gallery
Can anyone remember who took these photos?
Reminiscences and Anecdotes
Members are encouraged to write about their experiences of working on or seeing this production. Please leave your name. Anonymous entries may be deleted.
Having sat up to 1.35 am this week to see the Michael Caine / Christopher Reeve film of Deathtrap, I can only say the SLT production was far superior - and not just because I was in it!

Jill Davies (a.k.a. Helga Ten Dorp)
See Also
Have there been other SLT productions of this play? Link to them here.
Or add anything that is related within this site. The author's page for instance or other plays with a similar theme.
References
<references/>
External Links