Anti Valentines' Night (2007)
From sltarchive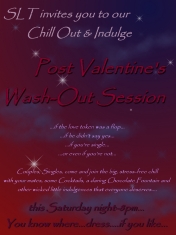 Social event in the members' club bar.
Sat 16th Feb 2007
Introduction
Decked out in sumptuous red velvet, it was a night for everyone to enjoy valentines not just couples, with a chocolate fountain, saucy games, truth or dare (powered by the addition of vodka to the chocolate fountain), there are many stories that must be left untold.
Gallery
Reminiscences and Anecdotes
Members are encouraged to write about their experiences event. Please leave your name. Anonymous entries may be deleted.
See Also
Other similar social events
Or add anything that is related within this site. .
References
External Links