A Russian in the Woods (2008)
From sltarchive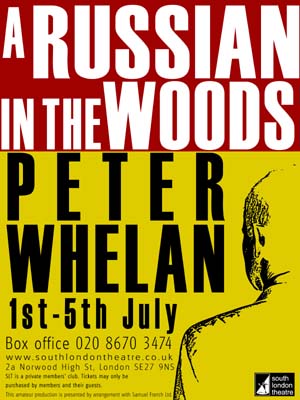 by Peter Whelan
Directed by Lisa Thomas
Performances: Tue 1st - Sat 5th July 2008, Bell Theatre
Introduction
The story of an innocent young sergeant posted to guard an empty house in post-war Berlin where there are ghosts in the garden. In one eventful weekend, he is introduced to homosexuality and the possibility that a gay American soldier may be a Russian double agent.
The play is also about the discovery of self by a soldier too young to have fought in World War II and too naive to understand the complexity of a partitioned Berlin. Nobody is what they seem, and in the end it seems to have all been a game: the Cold War was won by those on both sides who most wanted to win it and everyone else was a loser.
Cast
Crew
Reviews
Carole Coyne Loved all those men in uniforms.
Very well cast. The play offers a very human story with strong and varied characters and they all filled and embellished the parts beautifully. I won't give any secrets away except to say that we see a very gentle and charming side of Simon Roberts after his King Richard, Derek is powerfully angry; Matthew Davies is masterfull; Liv is very grown-up with no fangs; Neil has more than a banana in his pocket; James Hough is more relaxed than ever in a huge comfort blanket; Brendan gives a strong debut with no song-and-dance; and Adam weaves them all together with great skill and humanity.
And I loved the set.
Thanks to all
Davey Thanks to all for a very enjoyable evening. The set looked great, the play is full of surprises and suspense, and the cast were excellent. Cheers
Jack King Saw this tonight and absoutely loved it
worth the money just for Simon who was astounding
But brilliant from all involved, I wont name names cos they all deserve accolades.
Ruth Huggett Really good show guys, well put together, great set and some very strong performances.
Jenny McLaughlin Thank you very much to cast and crew for an engrossing evening. The acting was excellent: Adam beautifully expresses an inital innocence and naivety, ultimately revealing a stubborn integrity. Matt and Derek give masterclasses in repression and anger - Matt brooding and threatening, Derek constantly waspish and bitter. Never having seen Brendan on stage outside of the panto, I was blown away by his easy, naturalistic style and his AWESOME american accent. Simon charms the pants off his fellow cast-members and the audience alike with a fabulous insouciance which lights up the stage whenever he is on it. Liv delivers unforced and devastating poignancy. James and Neil round off the excellent team with their tightly executed appearances. Additional plaudits to James for his brilliant German accent and all-round madness...
The set, lighting and sound are extremely effective in conveying the atmosphere of paranoia, mind-games and ultimate futility and stale-mate of the cold-war, and the play itself is an intelligent and exciting exploration of the aftermath of WWII, where former allies become new and confusing enemies and the dyanmics of a decades-long stalemate are beginning to reveal themselves.
One small criticism: I didn't like Pat's retrospecive 3rd person monologues - not because Adam doesn't deliver them beautifully, but just because I feel that they add little additional insight into character and situation that we don't get from the action. Also, the dynamics and interaction between the cast on stage are so compelling, I just wanted the monolgues over so that we could get back to the action.
Congratulations to Lisa on a wonderful production - all involved should be very proud.
Brilliant writing coupled with some brilliant perfomances makes for a great night.
Jane Lobb Sardines magazine
Peter Whelan's play is a semi-autobiographical story of conscript, Pat Harford (played by Adam Crook), an idealistic and dreamy 19-year-old sergeant. It follows his journey as a green national serviceman to war-torn West Berlin in 1950 at the height of the cold war to work for the British Army's Education Corps. In the first scene we meet Pat just after he has played a gruelling tennis match against Clive Burns (Matt Davies) whom he soon learns is his superior officer and, unbeknown to I, an agent for the British Army Intelligence Service. The encounter evokes an atmosphere - at the heart of that era - of fear and duplicity. The title of the play refers to Pat's memory of seeing a Russian border guard while passing the frontier, before the start of the play; to Pat, a humanitarian, the enemy now has a human face. When he arrives at a large commandeered house, an army outpost in Charlottenburg, he meets Ilse Bucher (Liv Fewster) his commanding officer's secretary, who dreams of flying to America, and to whom he is instantly attracted. Encouraged by the secretly homosexual Fraser Cullen (Simon Roberts), they arrange to meet at a dance. However Pat is stood up by Ilse and ends up bringing back American soldier Lloyd Jackson (Brendan Murphy) to the empty outpost that he is supposed to be guarding. The American points out to Pat that the outpost house, stolen by the Nazis, would have been owned by a Jewish family. Jackson claims that he is gay and though Pat is curious he rejects his sexual advances. The next morning Lloyd has vanished and Pat is court-marshalled and accused of handing over military intelligence to Jackson, who in reality is Emil Voss an East German spy. Pat's innocent and romantic world view leaves him appalled at the treatment of Voss and, to protect him, he falsely claims to be homosexual, backing up Voss's alibi. Adam Crook, as Pat Harford, certainly looked the part: his young open face perfectly capturing the seriousness, naivety and befuddlement of a boy becoming a man, suddenly forced to take responsibility and testing the value of his rose-tinted ideals. Crook still has a way to go in producing a good cohesive performance, and the lead role in this production was at this stage beyond him, but certainly given more experience with some juicy roles he will surely become an asset to the South London Stage. Ilse is a fascinating character and the only female in the piece. Originally from East Berlin we hear how the horrors of the war took their toll - she was forced to hide in a bunker with just rotting corpses for company - and, in a darkly comic moment, how she ate the odd stray dog to stay alive: "they say a dog is a man's best friend …it's true."
Like Crook, Liv Fewster lacked the experience to fully realise the role of Ilse but some good moments did shine through, thanks to her naturalistic approach. Another strong role was that of Frazer Cullen, gleefully played by Simon Roberts. A multi-faceted character who, being a 'tolerated army gay', can see all to clearly the dangers of blackmail, bullying and ridicule that lie in wait for Pat after his false confession of homosexuality and successfully persuades him not to follow through. Roberts fully appreciated the fun to be had with the part of Cullen and rejoiced in it in an almost John Sessions-like style, especially when waltzing Ilse and Pat around the office, his lit cigarette clamped at the corner of his mouth and perilously close to his partners face. Matt Davies as the sinister intelligence officer Clive Burns was also a pleasure to watch; we felt secure in his able hands as he bullied and threatened his way into the life and mind of our hero Pat Harford. Lisa Thomas's direction was unobtrusive, allowing the characters and plotline to tell their story unimpeded any by fussy or over-produced ideas. At times this worked very well and the simple set consisting of an outline of a room - just doorframes and cornicing - was a master stroke. However I do think that given the relative inexperience of some of the cast, a firmer and more positive approach from Thomas would have made all the difference, particularly in heightening the energy and drama in the production which never really exceeded average. This was a shame as I am always excited by the variety and range of the South London Theatre programme, and by the drive and youthfulness of the society as a whole. A Russian in the Woods was a brave and therefore typical choice of production by SLT; unfortunately this time they didn't quite pull it off. Still, not to worry, with twenty-two shows a year and a healthy social atmosphere, SLT can afford the occasional dip, and this reviewer can testify that this is a very rare occurrence from this vibrant London group.
Gallery
Reminiscences and Anecdotes
Members are encouraged to write about their experiences of working on or seeing this production. Please leave your name. Anonymous entries may be deleted.
See Also
References
<references/>
External Links
The German night watchman (Dieter Stahl) recalled during the play that he had been at this battle: