Youth Shows: The Monster Quest/Woolfie (2006)
From sltarchive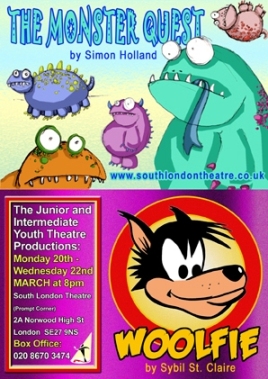 Performances: Mon 20th to Wed 22nd March 2006, Prompt Corner
The Junior and Intermediate groups of the South London Youth Theatre presented two contrasting pieces.
The Monster Quest
Directed by Angela Barnes and Simon Holland
Introduction
Somewhere, on a distant island, a mysterious monster lurks about. It hasslobbered all over the village topiary and eaten all of the local crops...and the natives are really rather miffed. Join Captain Joyce Stick, her crewof loyal stewards and a team of academic 'legendary creature' experts asthey piece together the evidence. Where did it come from? What does it looklike? Which of the eminent Professors has the correct monster theory? And,most important of all... what is that smell?
Cast
Members of the Junior group
Woolfie
Directed by Victoria Waddington & Carly Binger
Introduction
Blending three well-loved fairy tales, Little Red Riding Hood, The Three Little Pigs and Goldilocks and the Three Bears, Woolfie takes place in a series of flashbacks as the wolf must defend himself in the Trial of the Century.
Accused of a variety of heinous crimes that include blowing down other people's houses, impersonating grandmothers, and gobbling up little girls, the much maligned and misunderstood Woolfie must defend himself or face dire consequences.
This new look at an old take explores prejudice in its many forms, and features such characters as Judge Billy Goat Gruff, Little Bo Peep as the bailiff, gangster pigs, a befuddled attorney and a interactive panel of jurors. The play builds to an unexpected ending using audience participation and a surprise witness.
Cast
Members of the Intermediate group
Crew (for both shows)
Reviews
Some review quotes go here
Gallery
Reminiscences and Anecdotes
Members are encouraged to write about their experiences of working on or seeing this production. Please leave your name. Anonymous entries may be deleted.
See Also
Have there been other SLT productions of this play? Link to them here.
Or add anything that is related within this site. The author's page for instance or other plays with a similar theme.
References
External Links