West (1993)
From sltarchive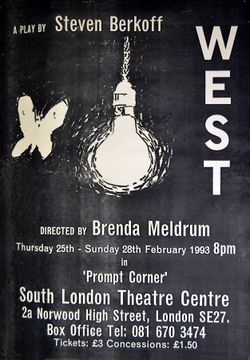 Directed by Brenda Meldrum
Performances: Thurs 25th – Sat 28th February 1993, Prompt Corner
Introduction
"Steven Berkoff's plays reflect his varied theatrical experience from physical theatre, to the theatre of cruelty which influenced Brook's production of Marat/Sade. " A primary concern is to bring theatre back to its ritualistic origins, for "Ritual is characterised by its concern with human involvement and the Sharing of ideas". Berkoff wanted to write plays that reflected the huge creative energy of theatre directed at the audience's senses as well as their minds; he is interested in plays whose themes are non-representational images of human behaviour rather than a narrow concern to hold a mirror up to life. " West is born out of his own background. "WEST is about courage; the courage to live according to your spirit and not by the guidelines laid down for you by others; to be true to yourself, which may involve alienating others, but which you know is worth pursuing since it defines who you are. Courage shapes, forges and hones you into something that is not vague but clear-cut and definite. Mike's truth is to live for the simple principles and to put his courage where his mouth is. He defeats the Hoxton monster and will continue to fight monsters so that others can rest safe in their beds."
From: "The Theatre of Steven Berkoff", published by Methuen Drama in 1992.
Brenda Meldrum, Director.
Cast
Crew
Reviews
I sometimes wish all dramatists would follow Harold Pinter's example and refuse to explain what their plays are all about.
According to Stephen Berkoff his "West" is about the courage to be true to yourself, "which is worth pursuing since it defines who you are".
This strikes me as one of those meaningless pieces of guff which at first glance pass for profundities. Don't we define who we are by our every action, great or small, true or false, worthy or despicable?
At least indifference is one emotion Berkoff is unlikely to arouse in you, as witness Brenda Meldrum's explosive direction in the Prompt Corner.
Its violent energy and Shakespearean echoes (whole slabs of Hamlet came flying out at us throughout the evening) undermined the theatre manager's dream by bringing bums halfway off seats.
This account of gang war in N16 revolved around Mike Coper's concussive performance as gangleader Mike. Other members of the cast each took several roles, moving easily in and out of them as occasion demanded.
The distinctive flavour of the production was exemplified in the staging of Mike's terrific solo fight scene to the stately, baroque Adagio of Albinoni, a true harmony of antitheses.
From a worthy supporting cast, three performances stood out in particular. The haunting desperation of Cheo Rhodes, as Mike's girlfriend, stemmed from her conviction that the greatest threat to her came from his sworn enemy, the rival gang leader.
Peter Medd and Kait Feeney poignantly conveyed the where-did-we-go-wrong agonies of Mike's parents, a downtrodden pair of drudges in the semi-comic Jewish tradition, only a generation but a whole world away from their son's rootless anarchy.
Donald Madgwick, The Croydon Advertiser.
Gallery
Reminiscences and Anecdotes
Members are encouraged to write about their experiences of working on or seeing this production. Please leave your name. Anonymous entries may be deleted.
See Also
Have there been other SLT productions of this play? Link to them here.
Or add anything that is related within this site. The author's page for instance or other plays with a similar theme.
References
<references/>
External Links
[Category:Prompt Corner Productions]]