We'll Always Have Paris (2015)
From sltarchive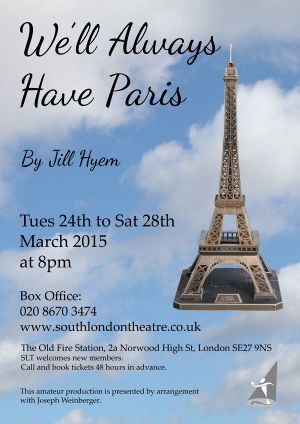 by Jill Hyem
Performances: Tue 24th – Sat 28th March 2015, Prompt Corner
Introduction
A comedy where three English women of 'a certain age' meet up in a Paris apartment. Anger, tears, deep friendship and hilarity ensue with the presence of an out of work actor working as a plumber and constant interruptions by a suspicious landlady.
Cast
Crew
Merci
Memories of Paris…
Marcia's grandparents lived in Paris, in a traditional "appartement" on a street just off the legendary Avenue Foch. This means that as a (much) younger person she had the opportunity to explore the city, drink wine and snack on baguettes!
Lily Ann has been to Paris 3 times.  First at the airport only - on the way to somewhere else; once 16 years ago when she got engaged to 'my Eddie' and thirdly 8 years ago for a boozy lunch with friends who lived in Normandy because her 87 year old mother wished to a) meet the friends and b) travel on Eurostar!  But she does have several cousins who lived in Montreal for many years!
Christine: The only 'romantic' weekend I had in Paris (i.e. just the 2 of us) we were staying in a small, cheap hotel not far from the Gare du Nord (long before Eurostar). Sometime after midnight we were woken up by a member of the night staff attempting to get into our room for a crafty kip. At least I hope that's what it was… He was very apologetic.
Vanessa: Eurostar!!! What's Eurostar? Last time I went I had to swim it was so long ago! Note to self "See if Mona Lisa is still smiling after all these years"...
Peter: Many years ago in Paris I went into a bar and, in my best French accent, ordered a pack of Gauloises. The barman immediately asked if I was a foreigner. Ego completely punctured I confirmed I was a Brit. He nodded, shrugged and said "Only foreigners smoke this rubbish". Ah, French diplomacy.
Jenny fell in love with Paris when she was 16 and went on holiday with a school friend, unchaperoned. Their French teacher booked them into The Christian Hostel For Women so behaviour was, obviously, exemplary. Jenny was able to let her hair down later in life when visiting Paris each spring with ladies of the Dulwich Players, when she enjoyed French wine and art. Jenny's new play about Pissarro is planned to be performed shortly.
Reviews
Some review quotes go here
Gallery
Reminiscences and Anecdotes
Members are encouraged to write about their experiences of working on or seeing this production. Please leave your name. Anonymous entries may be deleted.
See Also
Have there been other SLT productions of this play? Link to them here.
Or add anything that is related within this site. The author's page for instance or other plays with a similar theme.
References
External Links