Waiting for Godot (2021)
From sltarchive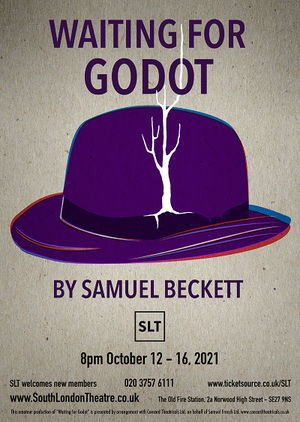 Performances: Tuesday 12 – Saturday 16 October 2021, Old Fire Station
Introduction
Vivian Mercer famously described this as a play in which "nothing happens, twice". It has become a modern classic. Two tramps, Estragon and Vladimir, wait in a barren landscape for Godot to come. Pozzo and Lucky, a master and servant, arrive and join them briefly. A boy brings hopeful messages. In the second act, this happens again. The interdependence of Gogo and Didi is lightened by quick fire repartee and music hall routines, as they use the humour of nonsensical banter to survive. Comedy is never far from the tragedy and pathos of their existence, and hope is rarely lost. This entertaining and surreal play provides unexpected twists to challenge the audience, while exploring and echoing so many aspects of our pandemic experience, thereby reminding us all that humour – and hugs – will surely enable us to survive anything
Cast
Crew
Reviews
Really enjoyed the opening night of Waiting for Godot. Intelligently directed by Jeanette, exquisitely lit by Bryon Fear and with strong performances all around. Particular praise should go to Simon Gleisner & Jason Salmon who are relied upon to carry long sections of the play by themselves, and do so with with humour, energy and nuance that keeps the audience thoroughly engaged.
Ben Rathe

Well done Simon Gleisner and Jason Salmon and untaggable Jeanette Hoile - I was thoroughly entertained throughout Waiting for Godot, which is high praise from the likes of me who generally thinks about 10-15 minutes is the perfect running time for a Samuel Beckett. I still don't know if it's a profound meditation on the nature of existence or just a fly on the wall with some forgetful tramps, but I did enjoy it! Big DBSs for the rest of the run.
Bob Callender

An excellent production of Waiting for Godot at South London Theatre this week. Simon Gleisner and Jason Salmon are sparkling in the lead roles.
Carole Coyne

Congratulations to all on fabulous performance of Godot, my friends were very impressed, and one has studied Beckett. Sorry to rush off and not say this in person. Well done Simon Gleisner , Jason Salmon , Jeanette and rest of cast. Set and lighting were also fabulous
Jess Osorio

'Many congratulations from me, too. Loved it, and loved the performances, direction, design and lighting. Interested to know how long before Simon Gleisnerand Jason Salmon will be visiting the barbers/hairdressers. Great show all, and special thanks to Jeanette. Good to see new members on board! Thank you all.
Christine Theophilus

I'm not surprised it has sold out, word of mouth should have done that!! I also suspect it is a good metaphor for what we all went through in the "Lock down" of Covid, every day seeming the same waiting ... for good news that we doubted would arrive soon.
Brian Fretwell

Fantastic performances this evening. Well done all!
David Carr

Loved it last night...great show!
Phil Ross

Excellent show, well done all involved. You really helped it make sense!
Cal Beckett

What fantastic performances. We were blown away. What a treasure SLT is!
Teresa Donoghue
Gallery
Thanks
Special thanks & admiration to: the amazing cast & crew, who embraced Beckett's surreal world, and Lorna Felix for her invaluable & unstinting support throughout. Thanks also to Rob & Sarah at The Hope, & Alex at The Rosendale, for rehearsal space; Barry Heselden, Helen Chadney, Roisin Deady, Bex Law & all the Front of House, Box Office & Bar volunteers.
Reminiscences and Anecdotes
Members are encouraged to write about their experiences of working on or seeing this production. Please leave your name. Anonymous entries may be deleted.
See Also
References
External Links